Welcome to the Tips and Tricks linkup! For this linkup share
one or several general life tips or tricks on your blog (we know you
have some good ones hiding up your sleeves). You can write about
whatever subject you desire, just let us know some ways to do it better.
The complete rules are listed below.
If you read my last post you know it's been a trying month. Without these below activities, I don't even want to think about what crazy man would've acted like. Here are my favorite activities for this 15 month old:
*
Books and Babie
s at the library. This is for kids 12-18 months and it is so so good. They read books, sing songs, and have fun activities to wear your little one out. Best thing: It's free! So check your local library for all of their kid offerings. Most I've found have at least 1 Books and Babies and 1 Tot School per week.
*
Fine Motor Skills Play
: we've been doing the following: dropping poofs down a used paper towel holder, sticking golf tees in a block of styrofoam, and feeding pipe cleaners through a colander.
*
Sensory play:
his favorites seem to be painting with droppers and finger paint and sensory buckets (I normally put his favorite toy cars in a bin with colored beans). Most of these ideas I got from
Buggy and Buddy
*
Staying Active:
I can't stress this one enough. We go to the park, Catch Air, hiking, and swimming in our indoor pool. We have to do at least one a day or it's meltdown city!
*
Ipad Apps
: He is LOVING flash cards right now. His favorite apps are Colors & I, Peek-a-zoo, Animals & T, and Busy Shapes.
1) Write a post with one or two tips or tricks. Link back to your hosts Casual Claire and Happily Hughes, and include then linkup button: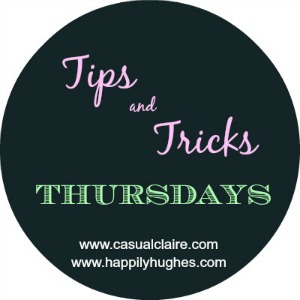 2) Share your link with us below.
3) Read the post of the person who wrote before you and LEAVE A
COMMENT on their post (this is important – we want to encourage
community and friendship).
4) Have fun!
document.write(");