If you're newer to the blog, you may not know that I was diagnosed with Melanoma 4 years ago. It was right after Henley turned 6 months I noticed a mole had grown and changed shape. It was a little asymmetrical so I showed it to my mom who is a Dermatological Nurse of 25 years. She was concerned by its change as well so I made an appointment with her P.A. for a biopsy. As a blonde, fair-skinned, and susceptible to moles I had several moles removed already. A couple came back irregular and one even registered as pre-cancerous so I had a big chunk removed out of my back at around 14. My parents always made us wear sunscreen, but I will admit I did tanning beds in college. Thats going to bite me in the butt later.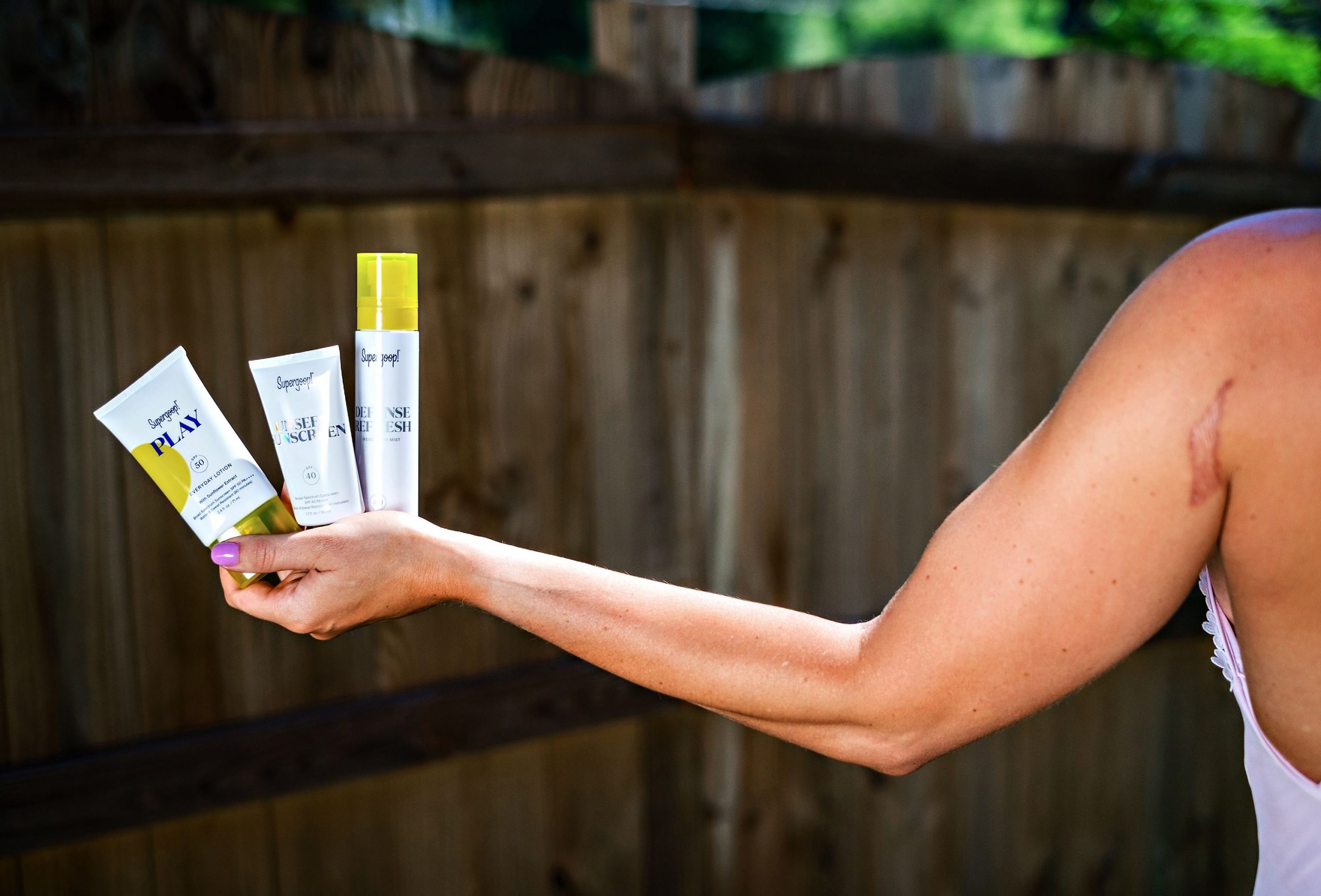 The P.A. called me a week later to tell me the mole had come back as a Melanoma, at least stage 1. She wanted to schedule a removal ASAP. I had my surgery 2 weeks later. Because it was on the back of my arm, they removed the lymph nodes in that armpit, as well as gave me radiation therapy for extra measures. I had to stop breastfeeding my 6 month old because of the radiation. I also have a big ol' ugly scar and have to get checked every 6 months for the rest of my life. My other doctors (dentist, OB/GYN, and general practitioner) also scan me for possible lumps and bumps because melanoma is such a sneaky and scary cancer. It can pop up anywhere, any time, with little to no warning and very dire circumstances. I personally know two people in my age range who have passed away from Melanoma. I'm telling you all this to warn you and to beg you to wear sunscreen. PLEASE.
I LOVE SuperGoops' sunscreen. First of all, they're great for those of us that enjoy self-tanner as it doesn't strip the color. Secondly, their Play sunscreen is great for my kiddos and has kept them sunburn free all summer long. Thirdly, the Glow line is perfect for those of us that love a little shimmer. I especially enjoy the setting spray as it helps keep your makeup in place while also refreshing your SPF layer.

And my favorite self-tanner: