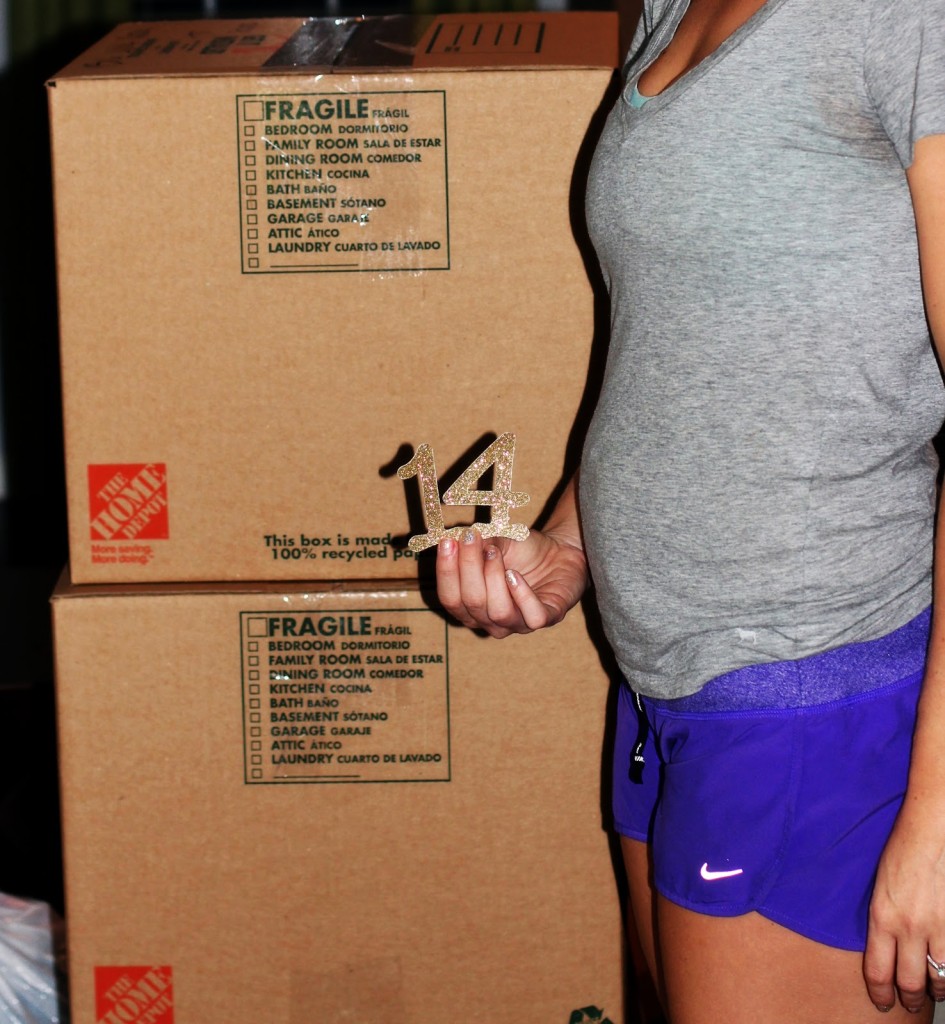 Ok before anyone asks, I lost that cute little burlap and flowers piece that I've used the last couple weeks for my bump pictures. I probably threw it away or shoved it somewhere and forgot. Damn preggo brain. Anyways, I had to improvise.
It's moving day!! This picture is the last one EVER taken in our old house. How exciting is that? I know I'm supposed to be all emotional leaving this house, but I'm not, just thrilled to be moving into a new home! And that's what it will be, a home. A place where my children will grow, and learn, and love, and be loved. Where we'll make a million and one memories. Where my husband and I will grow old together.
I can't wait to start nesting! And shopping. The shopping is pretty key. Because I may have sold all of our old dining, kitchen, and living room furniture. Whoopsies. I'm going to blame that one on the hormones. So we may be eating all of our meals on the floor for the next week or so. But that's just another part of this fun moving adventure right?
So how is it packing up and moving at 14 weeks preggo? Not bad at all! My nausea is FINALLY gone. Bye Felicia. Now that I don't feel like throwing up constantly, though, I've noticed symptoms of this pregnancy that I did NOT have with Hudson. Super dry skin, HUGE boobs (like grew 3 cup sizes in a month), and a weird coppery taste in my mouth all the time. Is this a girls only thing? Or did some of you experience this with boys too?
Workouts have been going well still! I lost a lot of strength and muscle these past two months, but I'm focusing on really nourishing my body with good food, as much sleep as I can get, and strong and steady workouts.
Hormones are also getting better. I don't want to slap everyone right now, which is great, but I do seem to think a vast majority of the population are idiots. So maybe they haven't really gotten better. At least I'm being nice to my husband! Ok, niceR. I'm being nicer to my husband 😉
Overall I'm just over the moon excited about this move and the future for our family. This week has been a very good one and I can't wait to see what the rest of the year brings. I feel like this sweet girl growing in my belly is our good luck charm!
Can't wait to show ya'll the new house and get lots of decorating tips from all of you closet Martha Stewarts.