This post is sponsored by Starbucks Refreshers.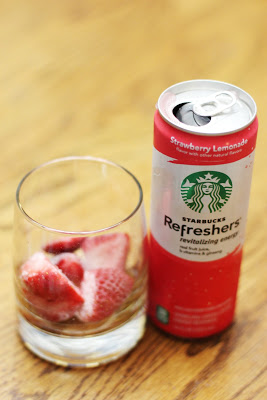 By 2 PM every day I am exhausted. I hate that slow, tired feeling I get each afternoon, and you all know know: "Ain't no one got time for that." I've got a house to pack, a new house to move into, and decorations to buy. Woe is me, right? Anyways, I need a pick-me-up to get everything done. So sometime I treat myself to
Starbucks Refreshers
.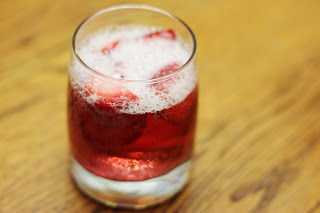 It's a welcome change from water, it tastes delicious, and it gives me that burst of energy I desperately need to get through my day. So for those days where I'm just dragging, where I can't even fathom getting another thing done, I pour myself a 4 oz. glass of this deliciousness. I always have frozen strawberries on hand, so I put those in as ice cubes and it just adds to the flavor. Once I'm done with my drink, I eat the strawberries too. Along with the extra Vitamin B and C in the
Starbucks Refreshers
, the strawberries also give me some extra Vitamin C. Anything to keep this body healthy! Doesn't hurt that it tastes so good 😉
With a revitalizing blend of sparkling fruit juices, b vitamins and ginseng, Starbucks RefreshersTM has all the goodness you need to get the most out of today.