Chocolate Chip Banana Protein Bread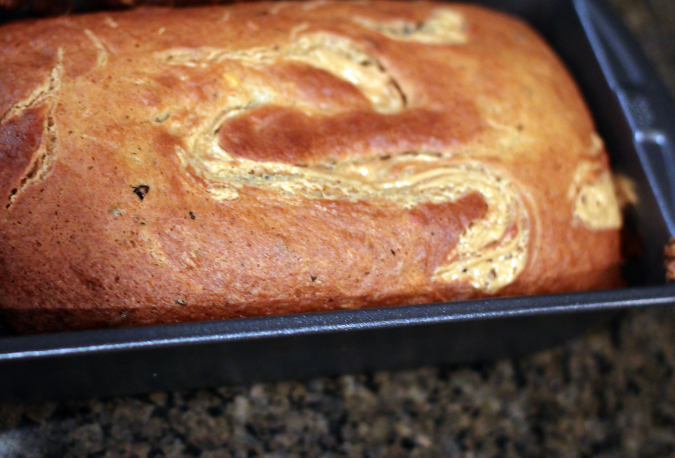 I am so ready for fall! So I whipped up this delicious and healthy chocolate chip banana protein bread. You'll notice in the picture above I swirled some peanut butter throughout the bread to make it even more delectable.
Ingredients:
2 cups flour
1/2 cup brown sugar
1/2 tsp baking soda
2 scoops AboutTime Peanut Butter Protein Powder (use code HAPPILYHUGHES for 25% off)
3 TBSP chia seeds
salt to taste
1/4 cup applesauce
3 egg whites
3 overripe bananas
1/3 cup vanilla greek yogurt
1 TBSP vanilla extract
1 cup dark chocolate chips
2 TBSP Peanut Butter
Directions:
Preheat oven to 350 and grease a bread pan.
Mix together dry ingredients in a bowl, except chocolate chips.
Whip all wet ingredients (except peanut butter) together in mixer until frothy. Slowly pour dry ingredients into wet while mixing.
Add chocolate chips and mix again.
Pour half of the batter into the pan, then drag 1 TBSP of peanut butter through the mixture with a fork. It should create a marble effect
Pour the second half into the pan and drag the remaining peanut butter through the top of the bread.
Bake for one hour or until golden brown. Slice and enjoy!