This Christmas coffee bar post is sponsored by Starbucks, all words are my own. I only work with brands I truly love, so thank you for letting me support them. #JoyCheerStarbucksand#CoffeeAtHome
To give you a little break from all the Black Friday madness, I've put together this gorgeous Christmas Coffee Bar for all your entertaining needs! We love coffee and hot chocolate in this house, and you know how much I adore a fun setup for parties. We're actually scheduled to do a holiday party this Sunday, so
a Christmas Coffee Bar is perfect!
To set up a proper holiday coffee bar you will need:
Starbucks K-Cups- I am partial to the Holiday Blend and the Peppermint Mocha Latte K-Cups
Candy Canes
Marshmallows
Cocoa powder
Whipped Cream
Sprinkles
Dark Chocolate Truffles
Irish Cream Liquor if it's a boozy type party
mini mason jars
ornaments to decorate
To Set Up your Christmas Coffee Bar:
Have a designated credenza or island just for the coffee bar. Make sure to have plenty of K-Cups for your guests to choose from.
Set up your toppings and mix-ins so they're easy to access and pretty to look at. I love mason jars for displaying items!
I grabbed some extra ornaments to decorate my space to give it an extra festive feel.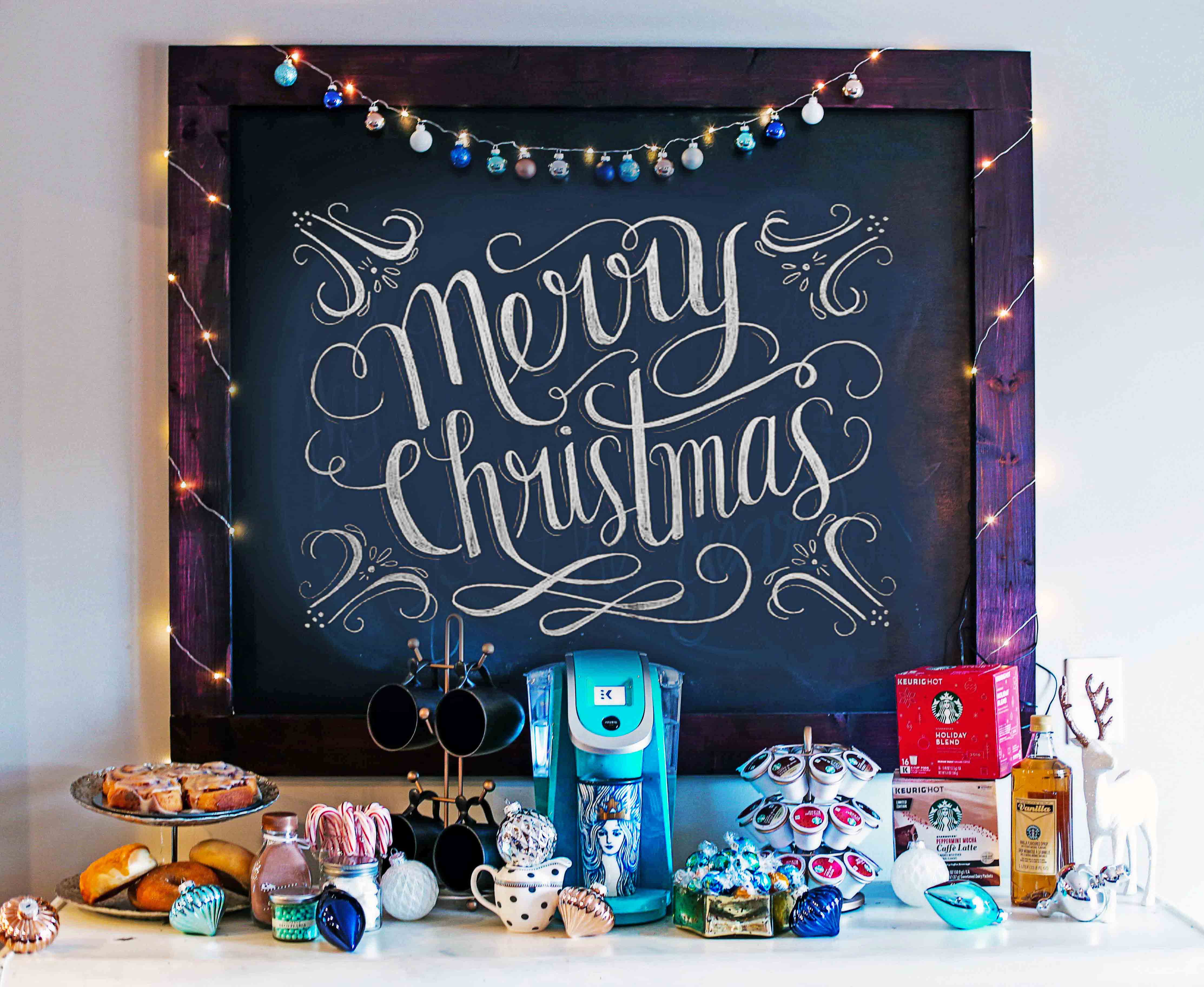 I think it's pretty obvious why I love Starbucks– they have the BEST coffee. I am a huge fan of Peppermint Mocha Lattes especially. And with how busy this season has been already, those K-Cups have been my saving grace! I stocked up on several boxes so we don't have to worry about running out, For my own Christmas coffee recipe I use a Peppermint Mocha Latte K-Cup, vanilla creamer, whipped cream, a candy cane, and some sprinkles for garnishment. And if I need a little pep in my step, I may add some peppermint schnapps. What is your favorite Starbucks flavor? Do you add anything special to yours?