Tuscany Travel Guide for the Family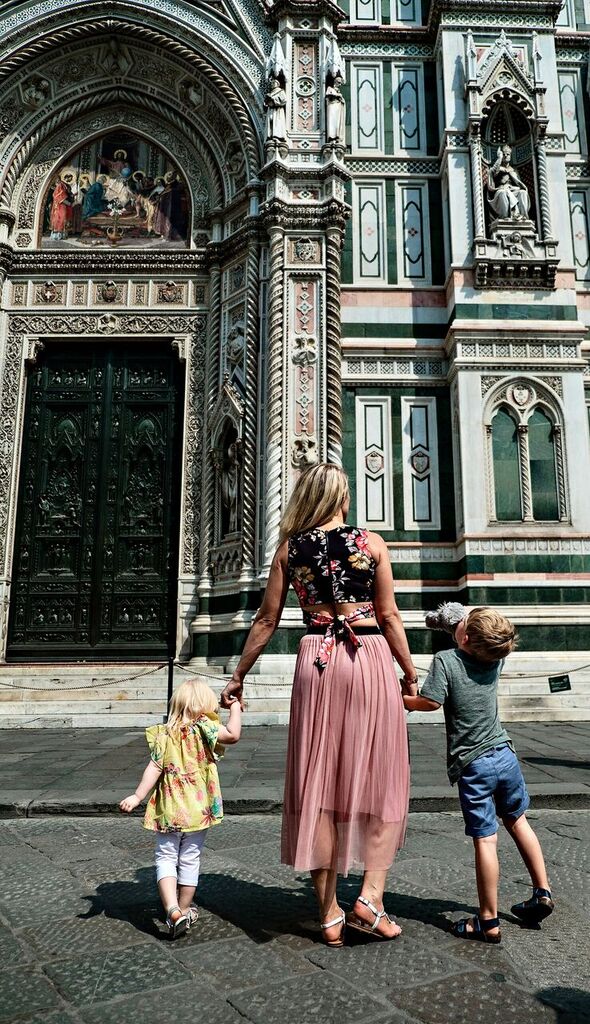 Alright, y'all have been anxiously awaiting so here is part 1 of our Italian adventure! In this post I'll cover everything we did in Tuscany. Each part of our trip was a favorite of mine for different reasons. Tuscany was a quiet and relaxing way to immerse ourselves into the Italian culture. We stayed at this beautiful resort, the Argentario Golf Resort and Spa, right along the coast of Orbetello. You can see how blissful the resort is here in our youtube video:
Tuscany Travel Guide
Ok so Tuscany is an entire region in Italy. We stayed in Tuscany, right outside the quaint town of Orbetello, which is along the coast and absolutely breathtaking. On one side you have beautiful beaches and sailboats on the horizon, on the other side there are rolling hills and vineyards galore. There are even castle and church ruins dotted along the landscape to make it, if possible, even more beautiful. Our resort, the Argentario, is snug into the Tuscan countryside. It has a world-renowned golf course, three pools, a spa, kids play room, delicious restaurant, a beach, sailing and so much more.
Tuscany Travel Guide – Where to visit:
Downtown Orbetello: it is THE quintessential Italian town. The locals were so warm and welcoming, the food is delicious, and there is fantastic shopping. If you have kids, they have a sweet little children's boutique. The woman there LOVED dressing the kids and gave them each their own kite to fly back at the resort.
Florence: Argentario is very close to a train station that you can take into Florence. You HAVE to go for at least a day! Head straight to the Il Duomo first. Its the main Florence cathedral and it is so beautiful you may cry. There was even an orchestra playing outside of it. There's a bistro in the square there that LOVES kids, so we sat there for breakfast and lunch! The kids munched on donuts and learned Italian from the owner while we sipped prosecco and gazed at the Il Duomo. Then we explored the different squares. There is leather shopping on every corner and breathtaking sculptures and fountains. We got so distracted we missed our cooking class!
Tuscany Travel Guide – Where to eat:
You honestly don't need to leave the resort for fantastic Italian food. There is a breakfast included in your stay that has so many delicious options. Hudson fell in love with the pancetta there and Henley could eat all the fresh fruit.
Dama Dama- The main restaurant at Argentario. They have a tasting menu you HAVE to try, and the kids have been BEGGING me to make fried chicken like they do there. The food was absolutely delicious!
The main bar had great finger foods, green juices, and mixed drinks!
Orbetello: There's a snack bar right as you enter the square on your right. Stop in for an Aperol Spritz and a prosciutto app.
Florence: Make sure to yelp search the local restaurant. We fell in love with the bistro in the square of the Il Duomo and ate all of our meals there. Theres also Ettamo Gelateria, which has fantastic desserts and limoncello.
Tuscany Travel Guide – What to do:
Again, you don't need to leave the resort to get a full Italian experience. There's wine tasting, golf, 3 pools, a robust play room, gym, spa and sauna, beach, sailing, and a playground for the kids. The weather wasn't fantastic when we were there, but the kids and I still had a fantastic time between the indoor pool, the play room, and our covered patio. Oh! There's also sweet cats on property that they loved to play with. When the sun came out we enjoyed the playground and sand pit.
Explore Orbetello- shop, eat, shop, and eat some more!
Florence- Take a step back in time and see where the Renaissance began. There's so much to do in Florence you could even go for a couple days.