Family Guide to Clearwater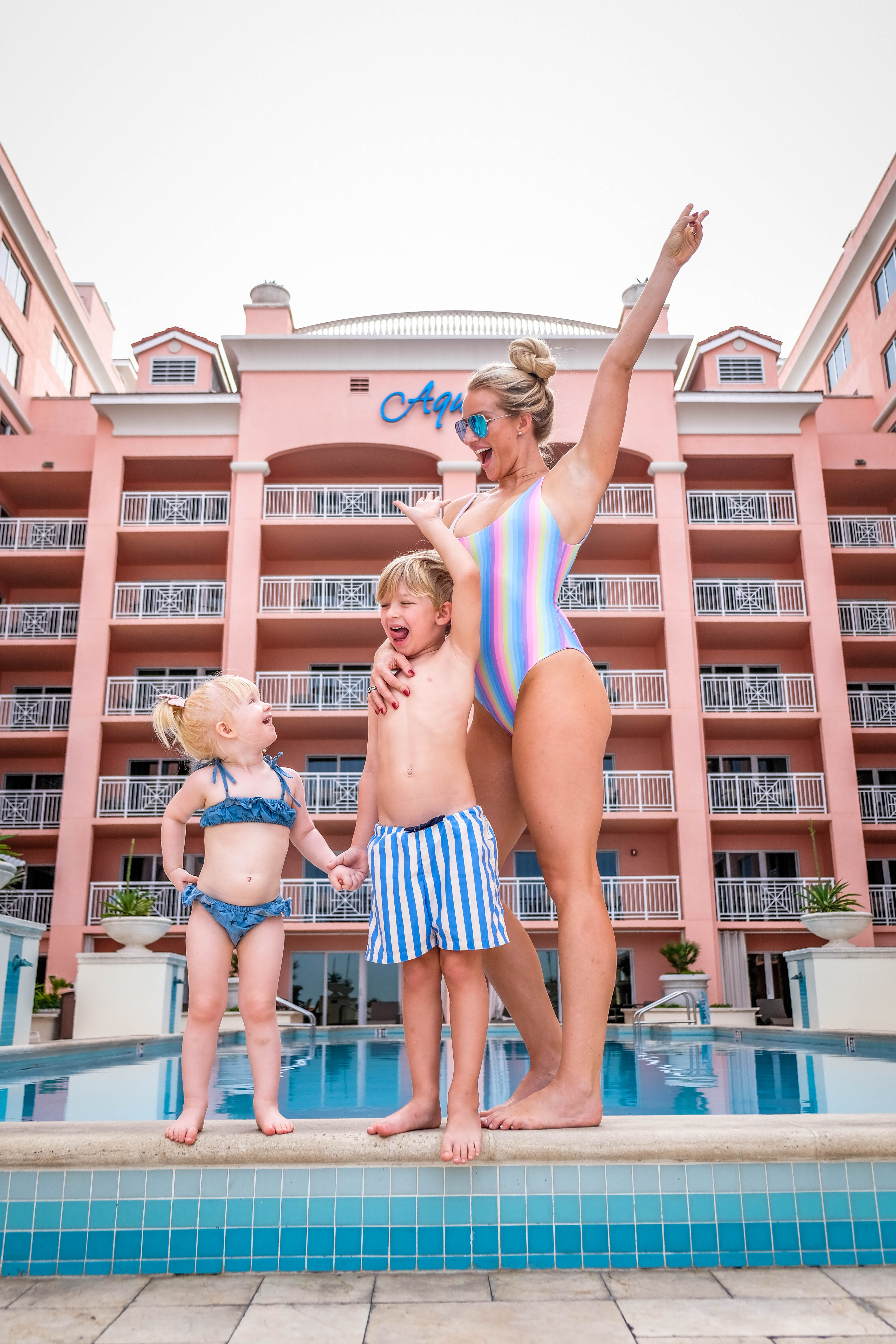 I can't believe I'm writing this, but I haven't ever been to Clearwater before. Now that I've been I'm definitely going to go again! Here is everything you need to know about family fun in Clearwater Florida.
Family Guide to Clearwater Florida
Where to stay:
Clearwater is about a 7 hour drive or a 2 hour flight from Atlanta. We opted to drive, as I didn't realize how walking-friendly the island was until we got there. We pulled up to the Hyatt Regency Clearwater and we were immediately swept in by a bellman and the valet. They took us up to our suite, helped us unpack, and then we headed to the rooftop pool. Let me tell you, the hotel is fantabulous! It's painted a light pink, so I already loved it. But the amenities, restaurants, and staff make it feel like a true vacation. We stayed in a two bedroom suite, with a balcony that overlooked the ocean. That meant 4 days of breath-stopping sunsets to enjoy with my little ones on the balcony. The beds were extremely comfortable, we had plenty of room, the kids loved the jet-tub, and I enjoyed many a hot shower in the rain shower. I'll talk more about the restaurants in the What to Eat section. But I also need to point out the ideal locale of this hotel. It is right in the center of Clearwater and we were able to walk everywhere! Besides getting to the hotel there was no car needed. I LOVE a city that's walkable as it gets the kids and I plenty of exercise, as well as allows us to explore. That being said, I also need to tout how clean and pristine Clearwater is. Of course the hotel was immaculate, but the surrounding city was as well, including the beach. Sugar white sand, shopping and eating galore, and breath-taking sunsets are all within reach of the Hyatt Clearwater.
What to do: If you have young kids you HAVE to:
Pirate ship cruise- the kids will have a blast and they actually babysit the children so the adults can enjoy as well! There are treasure hunts, songs and stories, and face painting for everyone.
Mini cars- these little Mario Kart look-alike were SO fun to tour the island with. We got to tour fancy neighborhoods, scope out our shopping plans, and check out the beach, all within an hour rental. The kids LOVED it.
Playground and Pier- right down the street from the Hyatt is a playground that the kids can spend hours on. Just a few meters away is the pier, which the kids enjoyed watching the fishermen and chasing the birds.
What to eat:
If you've been following for awhile, you know that I LOVE food. I can honestly say, you don't even need to leave the hotel for great food. We had lunch a the rooftop bar several times, and it was delicious each and every time. Breakfast at SHOR- you HAVE to get the egg white frittata. So. Good. You can also go to SHOR for dinner, or order room service from them. I can highly recommend the risotto, salmon and grouper. Across from SHOR is a Market, which has lunches you can grab on-the-go, as well as coffees, pastries, and other essentials.