30A Florida Travel Guide | Best Places to Stay, Shop and Where to Eat!
Welcome to our official 30A Florida Travel Guide! We've taken about 30 trips to 30A at this point so I can confidently say that we know the best of the best in the area.
Scroll through to see our favorite places to stay ranging from higher to mid range pricing, the best places to shop and of course our favorite places to eat!
The beaches here are some of the most stunning and 30A is only a 5.5 hour drive away from Atlanta so it's easy to do a long weekend trip here!
Our top hotel to stay at is the Hilton SanDestin. It's located in the heart of SanDestin. It's so luxurious and comfortable for a short or longer stay. It's beachfront and therefore you can get stunning views right when you wake up and watch the sunset from your room.
The amenities here are beyond, they have a beautiful pool, 4 fantastic restaurants including one right next to the pool and ocean. There is also a kids club close by, a great gym and one of the best spas I've been to.
If you're looking for a rental company instead aka a home away from home, Newman Daily and Oversee are the go-to rental companies on 30A.
One of our favorite places to stay is with Newman Daily Hidden Dunes. They have condos and townhomes on a sprawling property that houses several pools and a beautiful private beach. The rentals are mid-range price.
See this beautiful reel that shows the details of Hidden Dunes
Our other favorite rental is oversee30A. When the rental name is "It's Always Sunny on 30A" you KNOW it won't disappoint…
Trust me y'all, it didn't! We absolutely loved staying here. It was super close to the ocean for a beach day but also had the most beautiful pool to hangout at.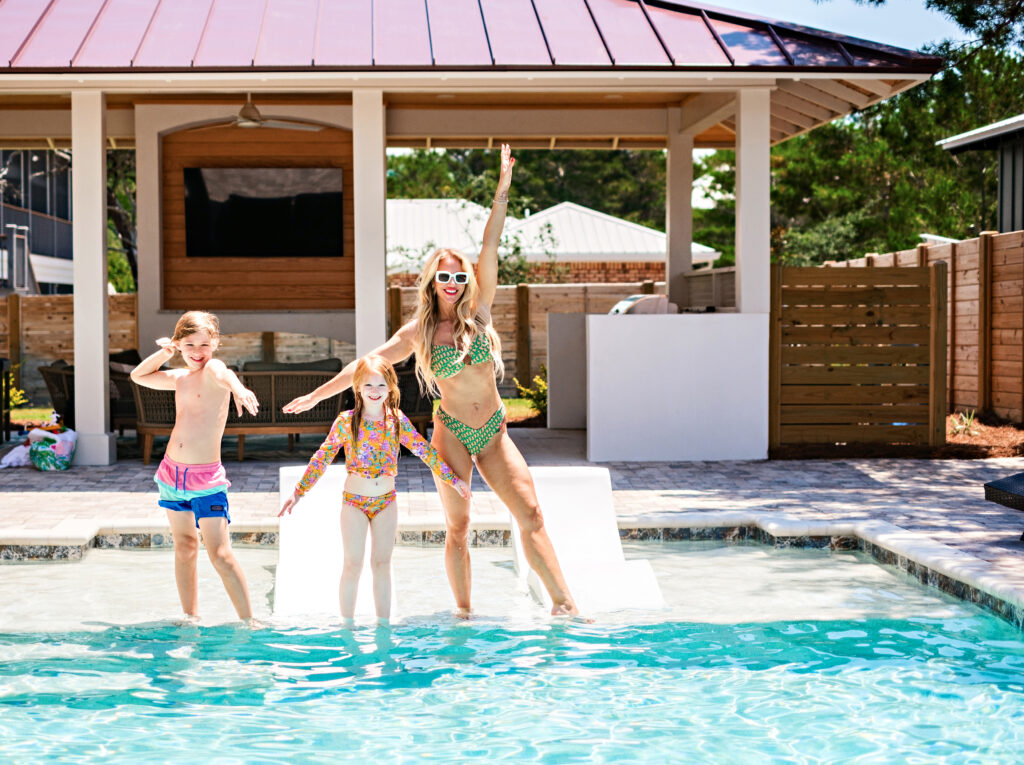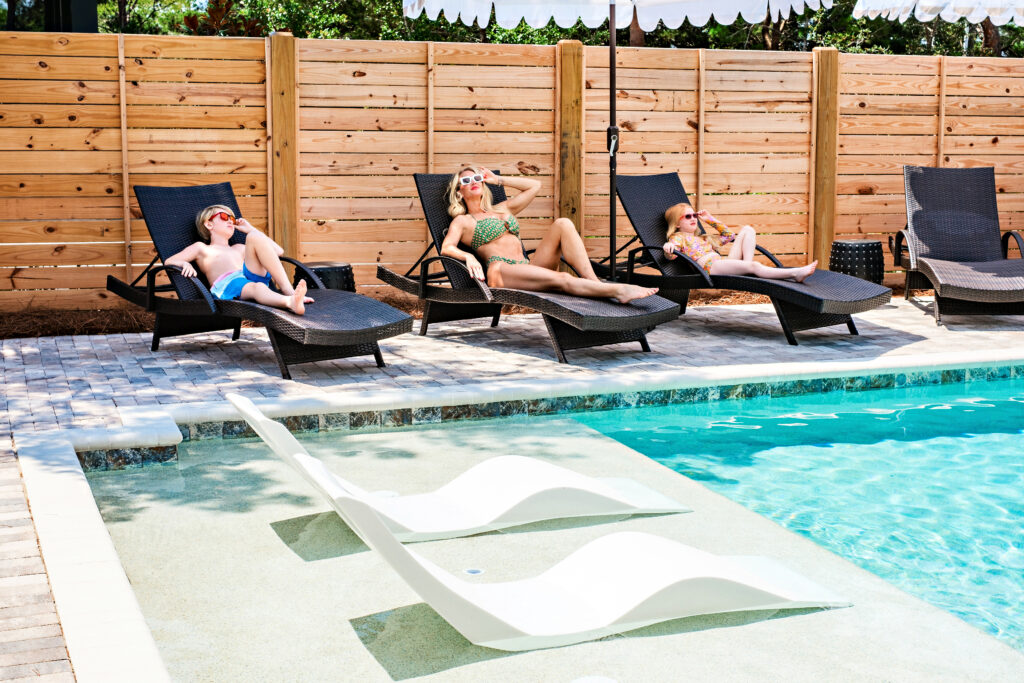 Something else we loved was that there was an outdoor TV area that was perfect for unwinding that the end of the day.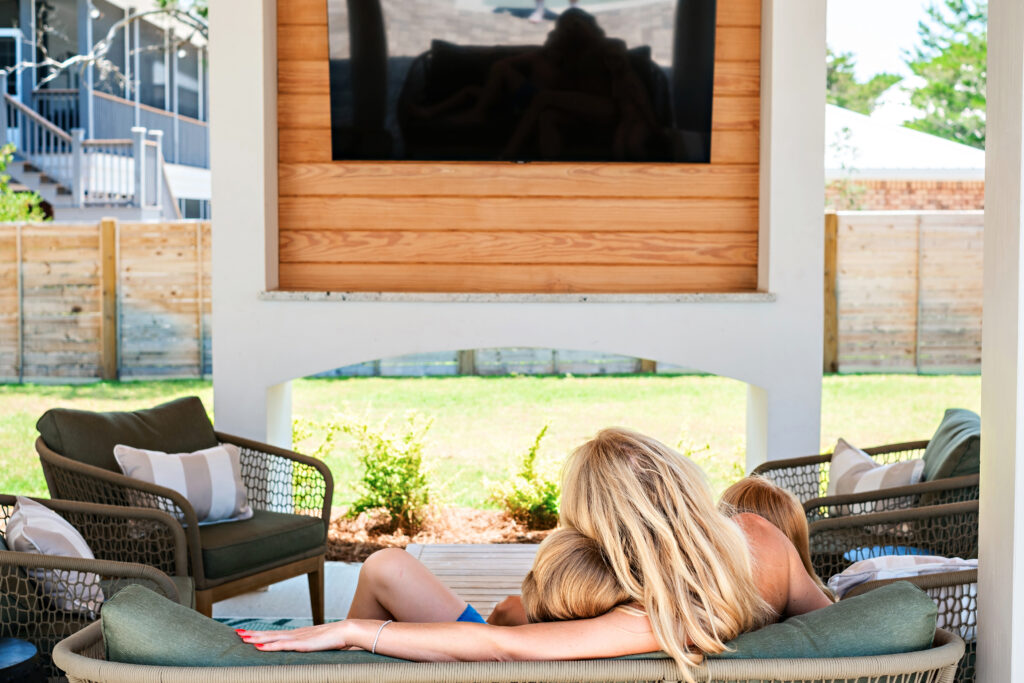 Not to mention it is within walking distance of several great restaurants and shopping centers in Blue Mountain Beach. Yes we stopped at Blue Mountain Beach Creamery once…or twice.
Now onto SHOPPING!
First up…..Seaside! It has super charming street and is a complete shopper's paradise.
You HAVE to stop at the bookstore and records shop – we always find little surprises here and most of my band tees are from the record shop!
IF you're looking for more high-end brands like Farm Rio and Mystique then you must head here. I got a few farm rio dresses here.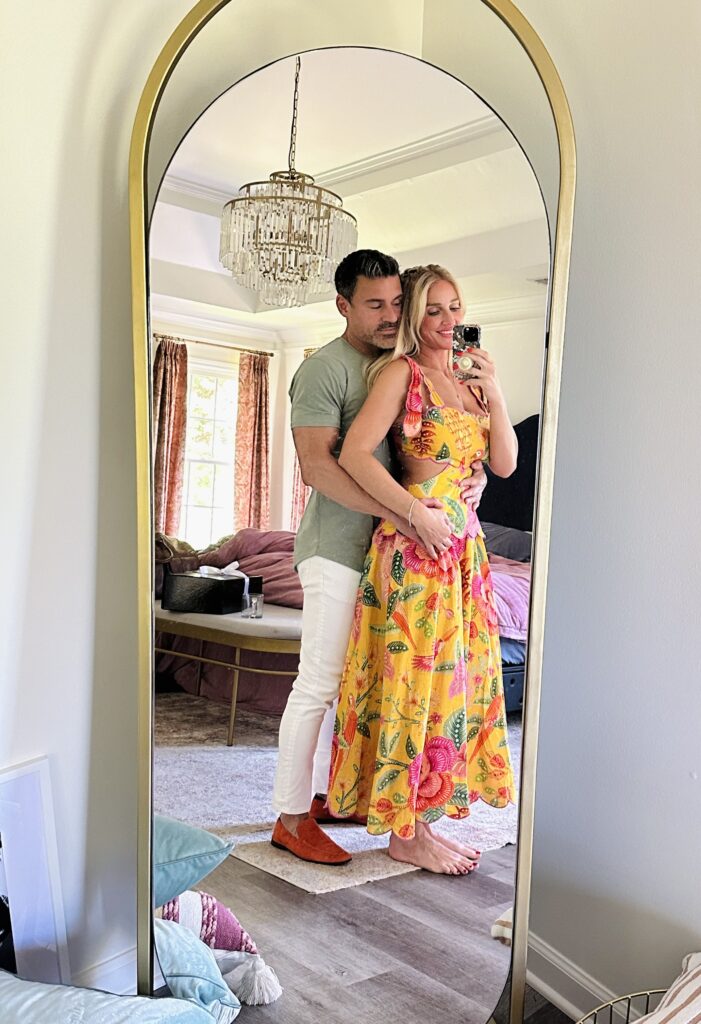 For more family-friendly shopping, Duckies has a huge selection of toys and gifts for the kids.
Another place we love is Rosemary Beach. Gigi's Toys is a must-visit for great kids clothes and toys, including one of Henley's favorite lines (yes she has favorites already haha) Lola and the Boys.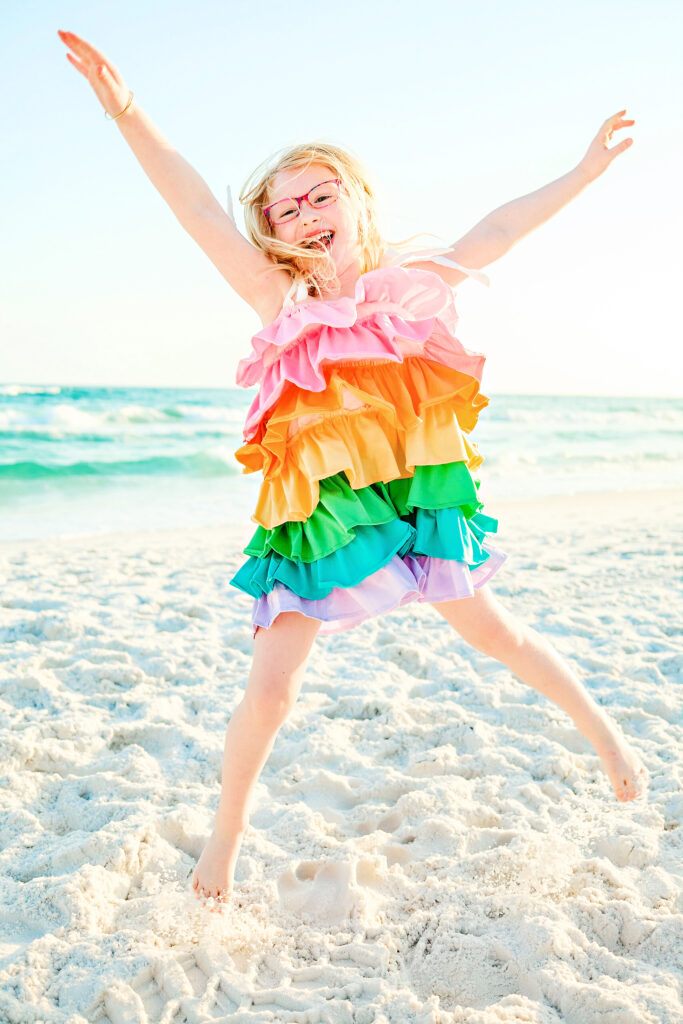 Disco is another boutique with such beautiful clothing! So many bright and colorful options.
If you're looking for interior design and decor things then Tracey Interiors is a MUST.
The final shopping destination that we love to head to is Alys Beach.
If you're looking for workout gear then you have to check out Barefoot Princess. They have so many bright and colorful workout wear and clothes!
For my mamas with babies, Bebette is the store to go to! SO many cute baby clothes….it almost gives me baby fever (almost…)
And finally, for the best part….food!
Our absolute favorite restaurant to go to every time is Seagars at Hilton SanDestin. It has the BEST steak on 30A and the chef (Fleetwood Covington) is so passionate about his job. Everytime we go there he has brought beautiful, new and innovative flavors and pairings to the menu.
Scroll through some of these gorgeous dishes from Seagars.
If you're looking for a rooftop patio then you have to head to Seaside and go to Bud and Alleys. The rooftop is stunning and has the most delicious crab cakes.
And you know we have to find the best places for dessert in the area and it's by far Charlies Delights. They are famous for their donuts and I'm telling you, it's for a good reason! The kids and I can't miss these when we're in the area.
A list of some other places that we love are Dewey-Destin, Louis Louis and Stewby's.
If you're looking for a more intimate setting you must try Roux 30A. We haven't been in so long and one of my followers reminded me of this place and it's incredible. They only serve about 25 people at a time and it's all local, fresh food.
What else did you want to know about travelling to 30A?!
If you're wondering how we survive 5 hour car rides then head here to see all of our car packing essentials.