Ahoy, y'all! I recently embarked on an unforgettable 7-day cruise with Virgin Voyages, and I couldn't wait to share my incredible experience with you. If you're looking to set sail in style and indulge in the lap of luxury, then this is it. Join me as I spill all the delectable details about my journey on the "Irresistible 7-Day Mediterranean" cruise.
Exclusive extras are included at the bottom.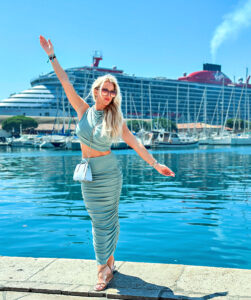 Did you even go on a cruise if you didn't get a shot like this?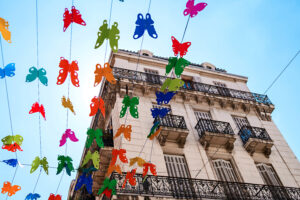 Boarding Bliss: VIP Access
One of the first things that struck me about Virgin Voyages was how fast and easy the boarding process was. And if you're anything like me and can't wait to start your vacation, you'll be thrilled to know that there's an option to upgrade to VIP status for early boarding. We love to see it.
My go-to luggage and travel essentials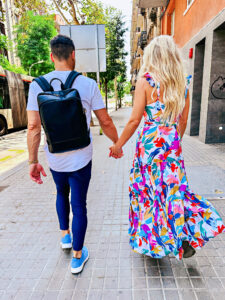 Room to Roam: Spacious Staterooms
Virgin Voyages takes "room with a view" to a whole new level. The staterooms on this cruise are not only bigger but also more comfortable than what you'd typically find on other cruise lines. It felt like a home away from home, complete with all the amenities you'd expect from a high-end experience.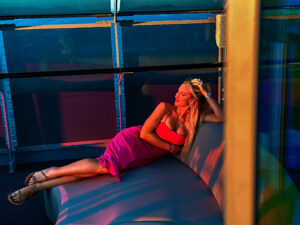 Suite Dreams: Ultimate Upgrades
For those looking to add a touch of extravagance without breaking the bank, Virgin Voyages offers a unique bidding system for room upgrades. Yes, you heard that right! You can score a suite for a fraction of the cost by participating in their bidding program. It's like a little secret that makes your cruise even more special.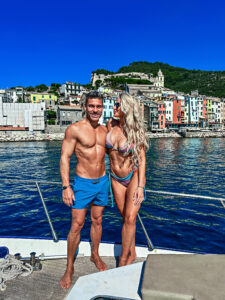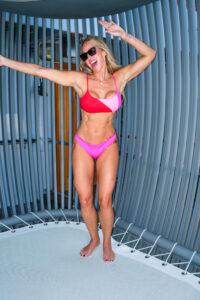 all outfits and similar pieces linked on LTK
Very VIP: Richard's Rooftop
Now, let me tell you about the crown jewel of the Virgin Voyages experience – Richard's Rooftop. This private rooftop oasis is exclusively available to VIP guests, and it's pure paradise. Not only can you soak up the sun with breathtaking views, but they also host a free champagne hour every afternoon – yes, you read that right… free champagne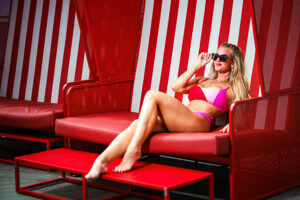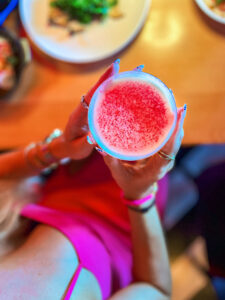 Vibing with Virgin Voyages? Snoop the experience here
Culinary Delights: Foodie Heaven
Prepare your taste buds for a culinary journey like no other. The food on Virgin Voyages is simply outstanding. From tantalizing appetizers to exquisite main courses and decadent desserts, every meal is delish. Whether you're craving seafood, Italian cuisine, or international flavors, they've got you covered.
Best meal of the Cruise? These dishes below – highly recommend.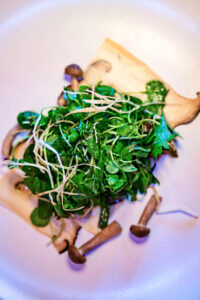 A Touch of Class: Exceptional Service
Service is where Virgin Voyages truly shines. The staff goes above and beyond to make you feel like royalty. And we love a high-end moment. Their attention to detail and warm hospitality create an unforgettable experience that sets this cruise above any other I've travelled with.
Because who doesn't want to feel like a Queen / King?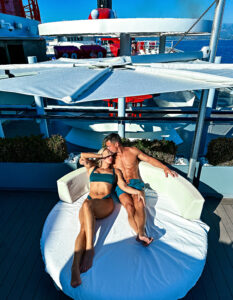 Setting Sail in Style: The Itinerary
Virgin Voyages' "Irresistible 7-Day Mediterranean" cruise takes you on a captivating journey through some of the most alluring destinations in Europe. From the vibrant city of Barcelona to the picturesque French Riviera and the enchanting seashores of Italy, every stop on this itinerary is a postcard-worthy experience.
You'll also have the opportunity to explore the idyllic Tuscan countryside, revel in the island beauty of Ajaccio, and unwind during a full day at sea. And to top it all off, the cruise concludes with an overnight stay in the electrifying Ibiza. Didn't think I would be going to Ibiza in my 30s, but it was a blast y'all.
Full, 7-day itinerary and all the extras here
The experience was nothing short of spectacular. 10/10.
Bon voyage, y'all!
___
Extras: Insider Links

Must travel essentials
My fave vacation outfit
Please note that some of the links in this blog are affiliate links and I may earn a commission at no additional cost to you. I only recommend products and services that I trust and believe will be of value to you
You might also like, 7 Outfit Ideas for Women; Casual & Dressy | Happily Hughes | Friday Favorites