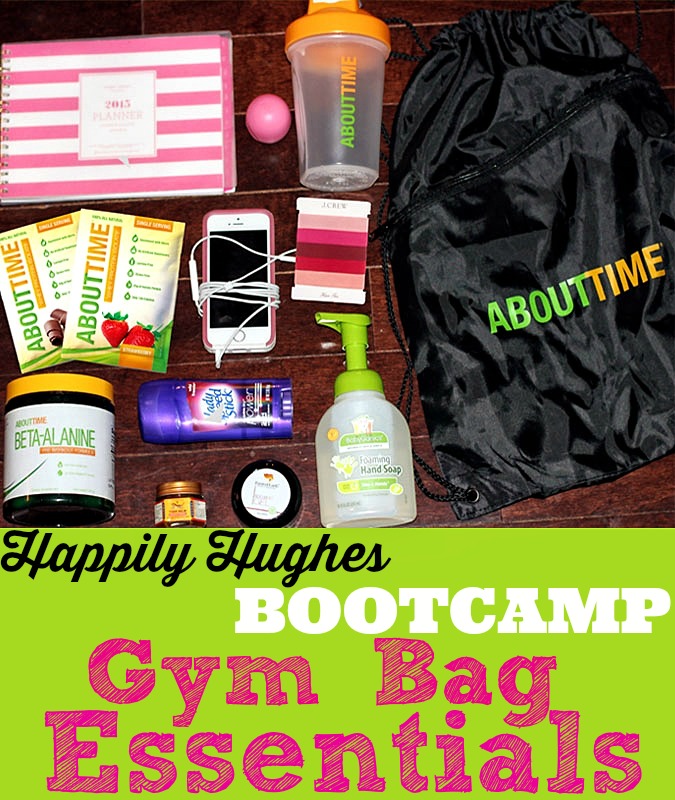 Day 2 of prep for #fitmamabikinichallenge is Gym Bag Essentials!  Be prepared and nothing can stand in your way.  Ok, that's a lie.  A lot can get in your way.  But with a gym bag packed and ready to go, that's one less thing to worry about.  I keep mine in the car with the these essentials:  
*Planner: my planner has a sticky note on each day with my workout on it.  That way I can grab the sticky, attach it to my phone, and hit the weights.  
*Lip Balm: Does it drive anyone else nuts when their lips are chapped?! 
*Shaker: I use this for my water and my post-workout protein shakes.  Make sure to wash this EVERY day or it will start to smell like a stinky old sock.   
*AboutTime
Single Serving Protein Packets:
Both for post-workout and when I am starving.  Nothing kills a workout like hunger pains.
*Iphone and headphones: Kind of a given right? Music and earbuds.  I can't use those noise-cancelling earphones because the daycare pages me over the sound system.  I do, however, turn my phone on airplane mode so I won't receive texts/emails/phone calls.  This way I can focus on my workout with no interruptions. 
*Workout band:  Don't see one in the picture?  That's because Hudson threw my most recent one in the toilet.  At the gym.  Gross.
*Hair elastics: I seem to lose at least one a day, so extras are a must.
*Beta-Alanine:
I add a pinch of this to my water before my workout.  I could go into the science of it but simply, it helps me train harder for longer.  (You can get this and the Protein at 25% off with code "HAPPILYHUGHES")
*Tiger Balm: All-natural version of Icy Hot.  Great for sore muscles and aches. 
*Boo-Boo Gel:
I have one of these at home and the gym.  A healing balm for scratches, blemishes, bruises and blisters. 
*Hand Sanitizer: Gyms are SO dirty!  Just ask my poor workout band sitting in the toilet.