Space Themed Toddler Room
Well we have BIG NEWS!! We bought a house! We still haven't sold ours so that's a little frightening, but yay for a new home! And one I actually like 🙂 If you've been around for awhile, you know our current house is not my favorite. I didn't want to put too much effort into decorating because I knew we would move eventually. Well next month, signora sucker! I am SO excited to decorate this new space and make it a home. I'll be posting a lot about it and would love ya'lls input, ideas, etc… But you know I had to start on my idea board for Hudson's room as it's time to transition him into a toddler bed *tear*. Here's my current idea board for his Space Themed Bedroom: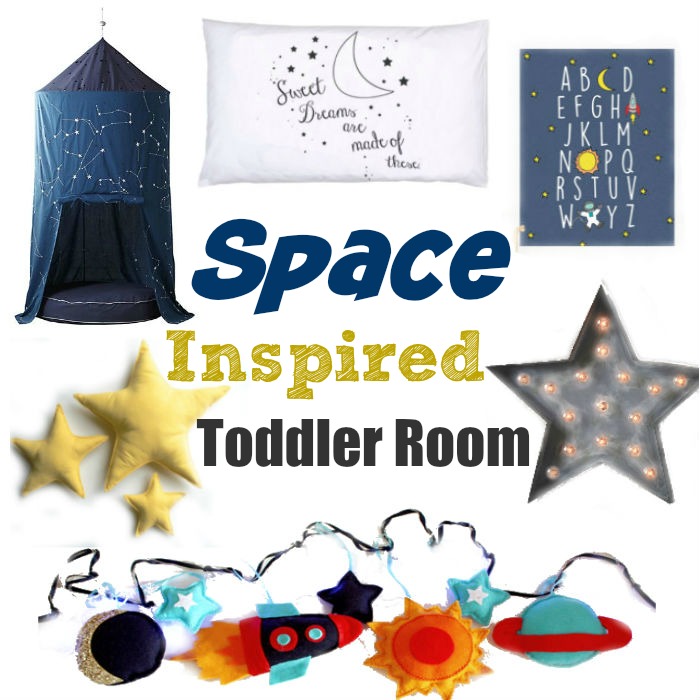 It all started with the top three items:
I fell in love with these items instantly and knew I had to base his whole room off of them. The Land of Nod Canopy is the perfect nook for reading and letting his imagination soar. The Little Banditos pillow is so sweet and *bonus* comfortable! And the Stop Growing Up Alphabet print is decorative, adorable, and also a great learning piece! P.S. ALL of these amazing stores are in my
giveaway
a few posts back!
Other pieces I've found that I have to add are the:
*
Button Owl Boutique Space Themed Fairy Lights
– I just found this easy shop and I'm slightly obsessed. I mean look how cute these fairy lights are! The shop owner, Roz, also makes pillows and several other themed pieces that you HAVE to check out!
What do you think? Are there any must-haves I'm missing?