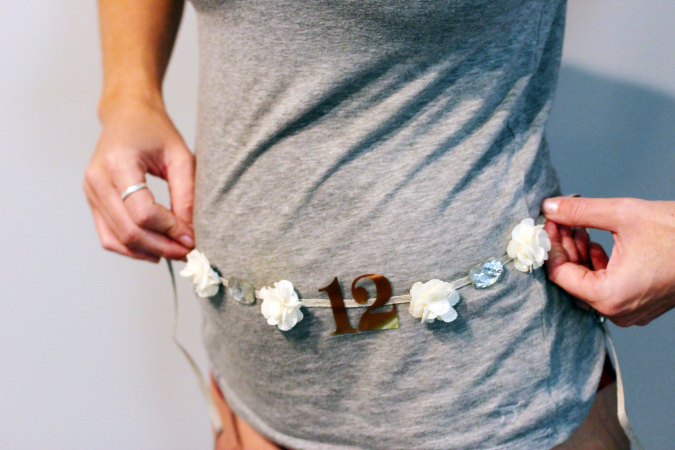 I know I'm late on this! Lots of craziness going on over here at the Hughes' household. Good craziness though. If you remember last weeks post, we thought we were going to lose the house we bought. Well thanks to all those prayers ya'll sent up for us, we're moving in 1.5 weeks! So thank you all! I haven't even started packing yet, but I'm so happy that we're moving I'm not that stressed about it. We'll get it done when we can.
This also means I am cracked out on home decor magazines and Pinterest. I can't stop. I want to buy all the things, and make all the things. It's bad.
Ok back to this sweet bump. For some reason my belly shrunk this past week. I don't know if it's the throwing up or what but it's at the size now that seems normal for me at 12 weeks. AND I've felt little bean move several times! Love that feeling! Like little butterfly wings inside my tummy. My doctor said it was probably in my head, but I know what those sweet flutters are.
My workouts have definitely gotten better as my energy seems to be creeping back in. Thank the Lord. I attended some of my favorite lifting and cycle classes and got back on my normal schedule. I'm still having bouts of nausea while working out, but I just take a minute to rest and get back to it. If Beyonce can do a world tour while pregnant, I can finish my workout.
Hormones have been up and down. The more I workout the better I feel so hopefully I can get these emotions in check with exercise and enough sleep.
Overall, it's getting better every day. The nausea, however, is still a problem and seems to be happening more at night. I've tried every single natural remedy out there and haven't seen a difference, so I may give in and get the medication. At this point I'm worried my teeth are gonna fall out! I'm also still having trouble sleeping at night, but I think if I get a good workout in early in the day that should resolve itself. Other than that I'm just trying to enjoy the journey! With as few trips to the bathroom as possible.