This shop has been compensated by Collective Bias, Inc. and its advertiser. All opinions are mine alone. #MinionsAtTarget #CollectiveBias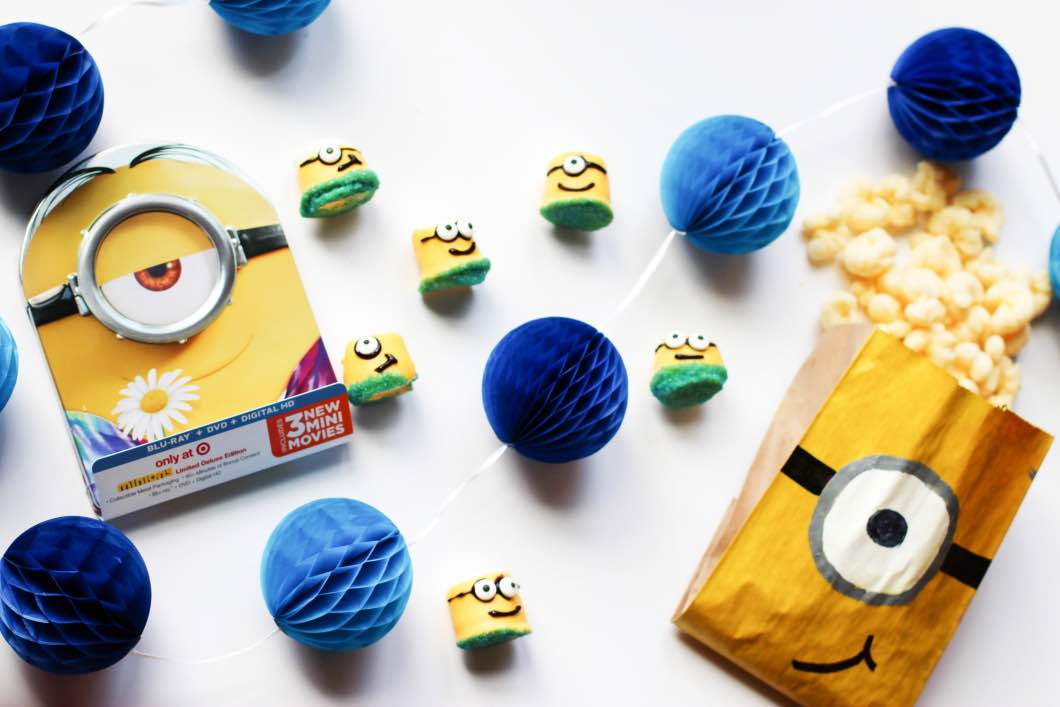 We have an absolute Minions obsession in this household. So when the Minions movie was released, I knew we needed a fun family night. I thought of Hudson's favorite treats and came up with two Minions crafts to pair them with- minions marshmallows and minions treat bags. When he woke up from his nap and saw the treats and movie awaiting him, his smile could've lit up a room!
First up is the minions treat bag. You'll need:
Brown paper bags- same number as the number of guests you're having for the movie night.
Paint brushes- 1 medium and 1 small.
Yellow craft paint
White craft paint
Silver craft paint
Black marker
Treat of choice- Hudson loves the Archer Farms puffs!
To make:
Lay out brown paper bags and paint each yellow as shown above in 1st picture. Give at least 2 hours to dry.
Then paint a white circle in the middle for the eye, as shown in the second picture. Let this dry as well. If you want to speed it up, place in the fridge!
Once white is dry, paint the silver around to make the goggle. Allow this to dry.
Take the black marker and outline the minions eye, goggle, and mouth! Fill with your favorite treat and enjoy!.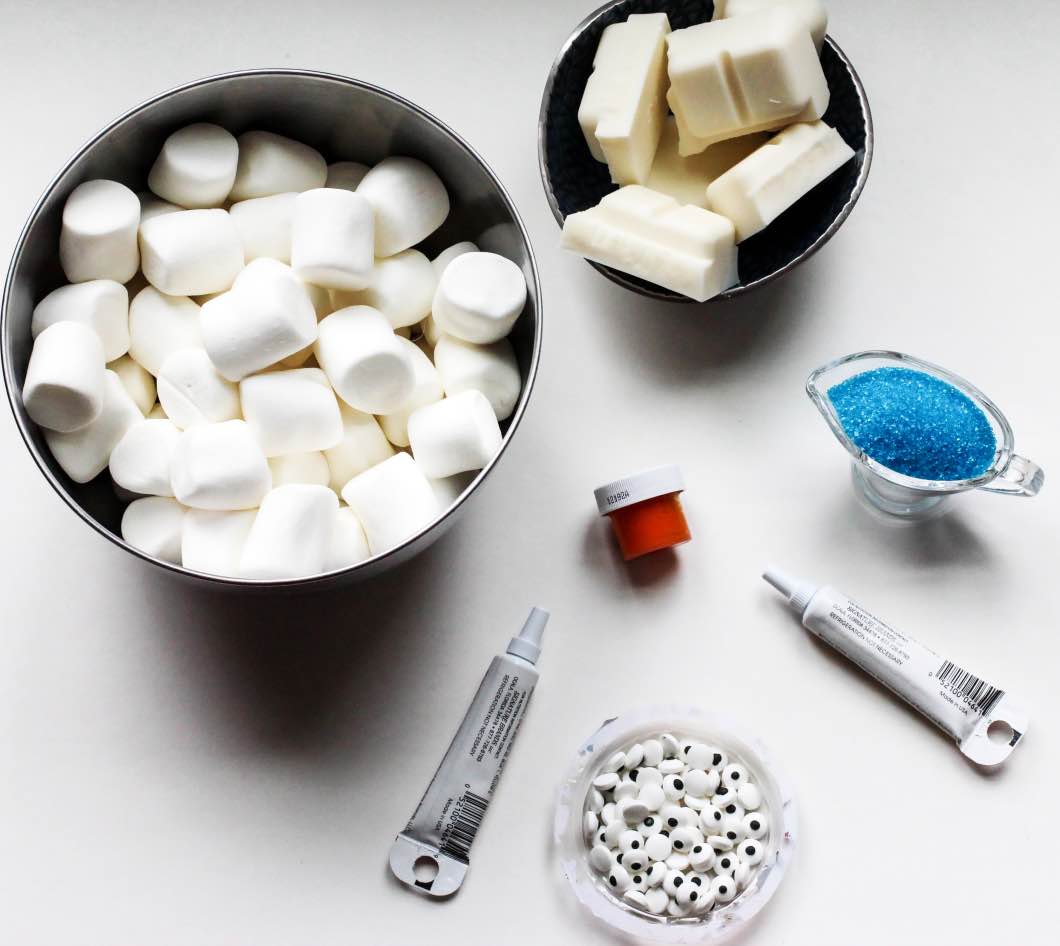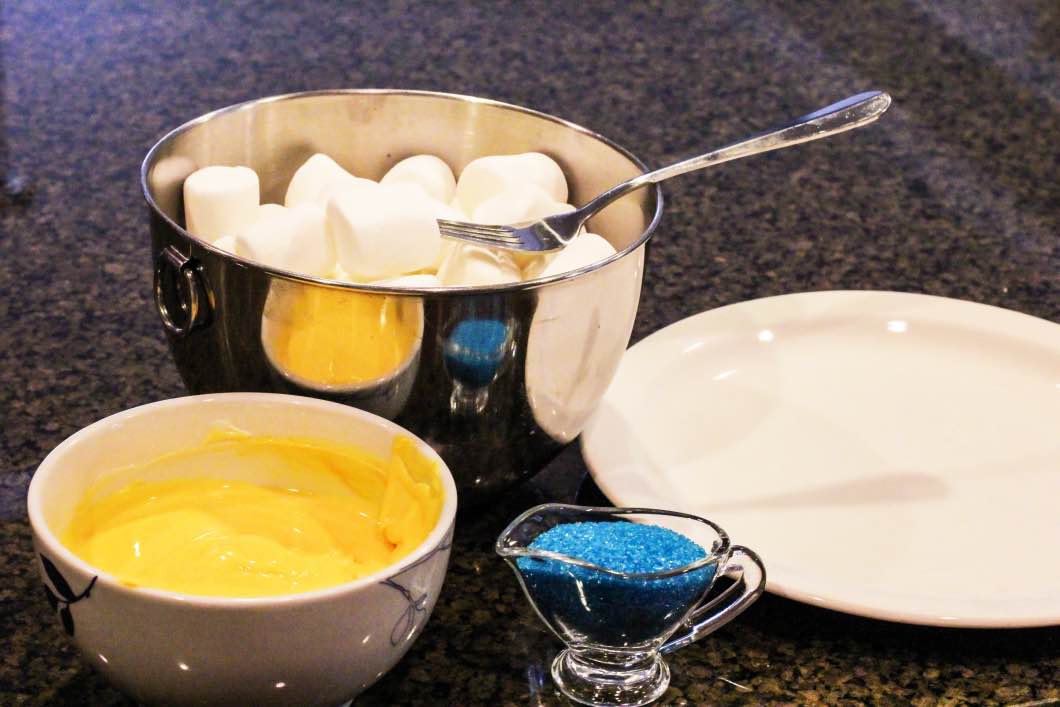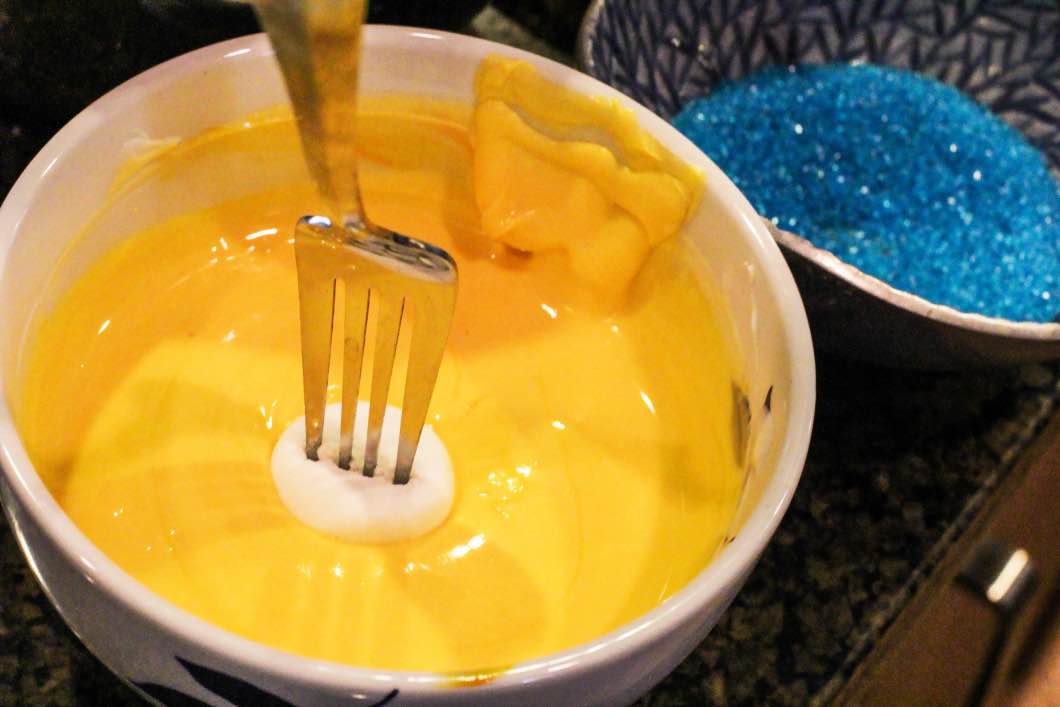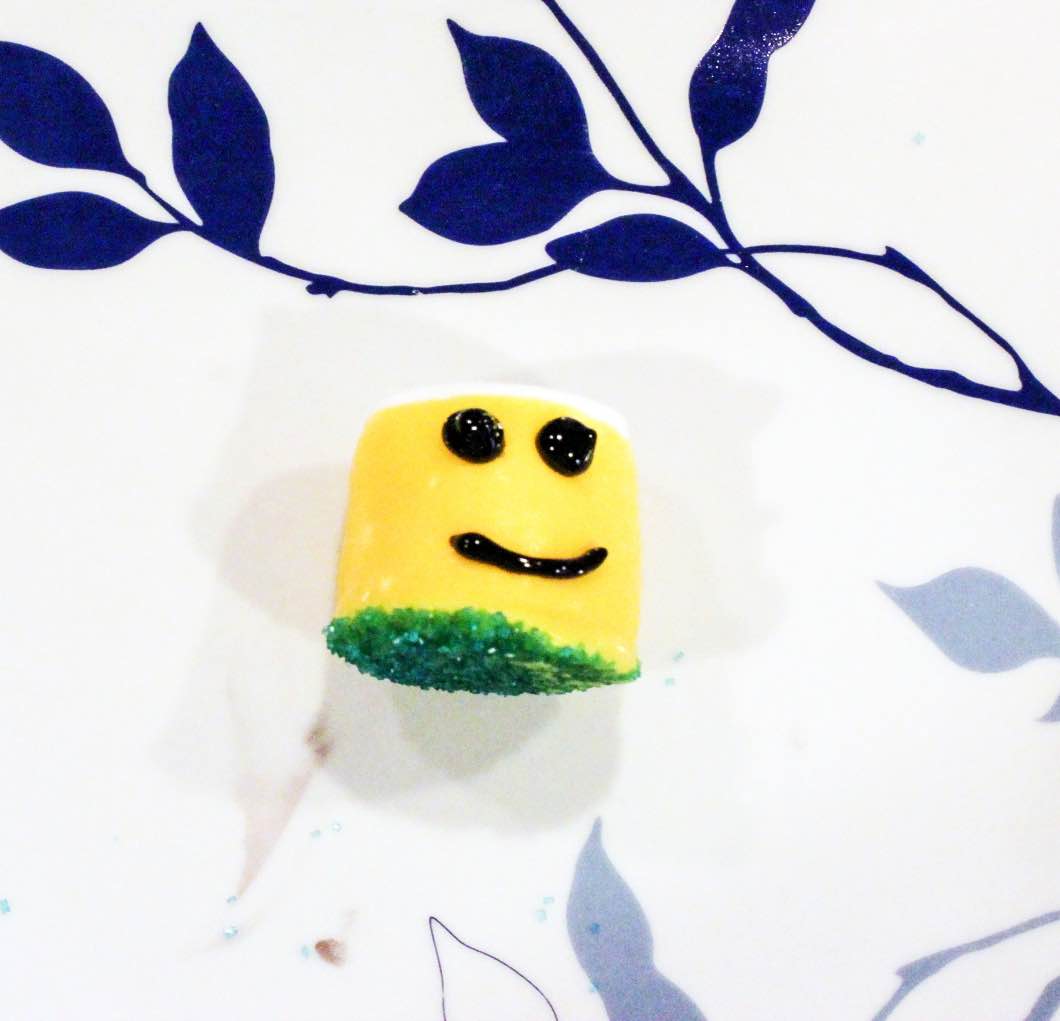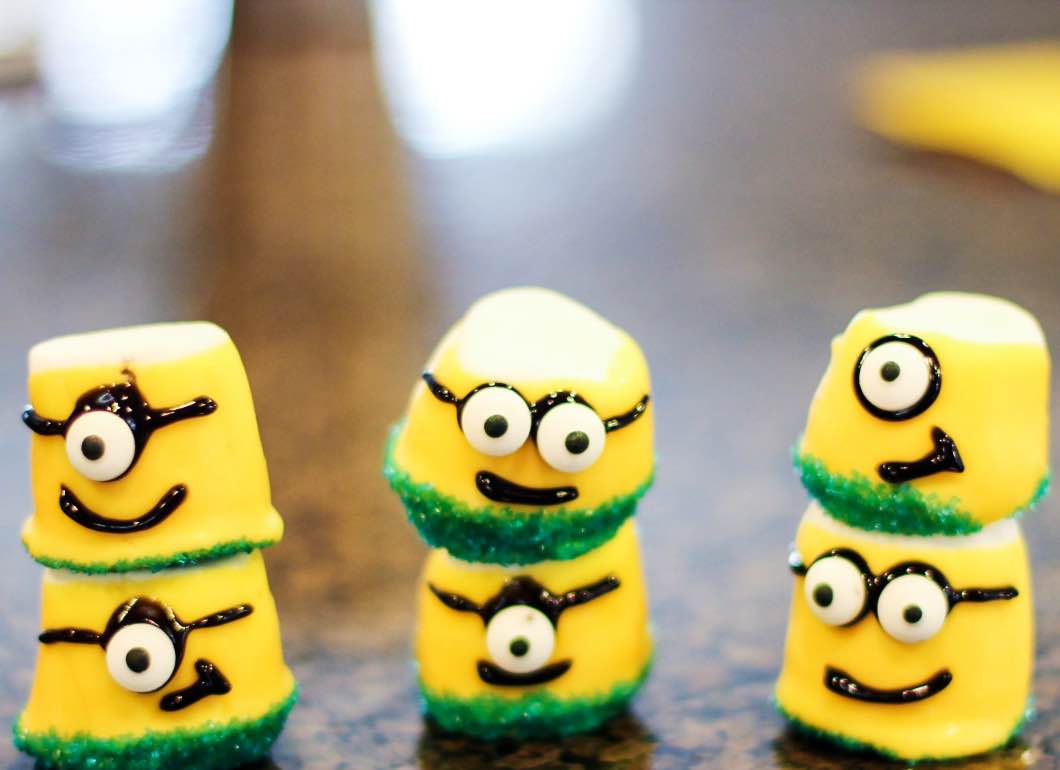 To make the minions marshmallows, you will need:
1 bag of marshmallows
1 bag of white chocolate in a medium bowl
Yellow food dye
Blue sprinkles, poured into a small bowl
Candy eyes
Black writing frosting
1 fork
Wax paper
Cookie sheet
To make:
Melt chocolate in microwave, every 30 seconds stirring until completely melted. Add yellow food dye until it's the perfect minion yellow.
Place fork in the top of each marshmallow and dip into yellow chocolate, quickly remove, then dip into blue sprinkles. Place on wax paper over cookie sheet. Reference 3rd picture above.
Place entire cookie sheet in the fridge and let the chocolate harden. Should take about an hour.
Use black writing frosting to draw smile and two circles to hold candy eyes- reference 4th picture above.
Place candy eye/eyes on frosting. Then draw two straight lines out from eyes using black frosting to complete the goggles.
Enjoy!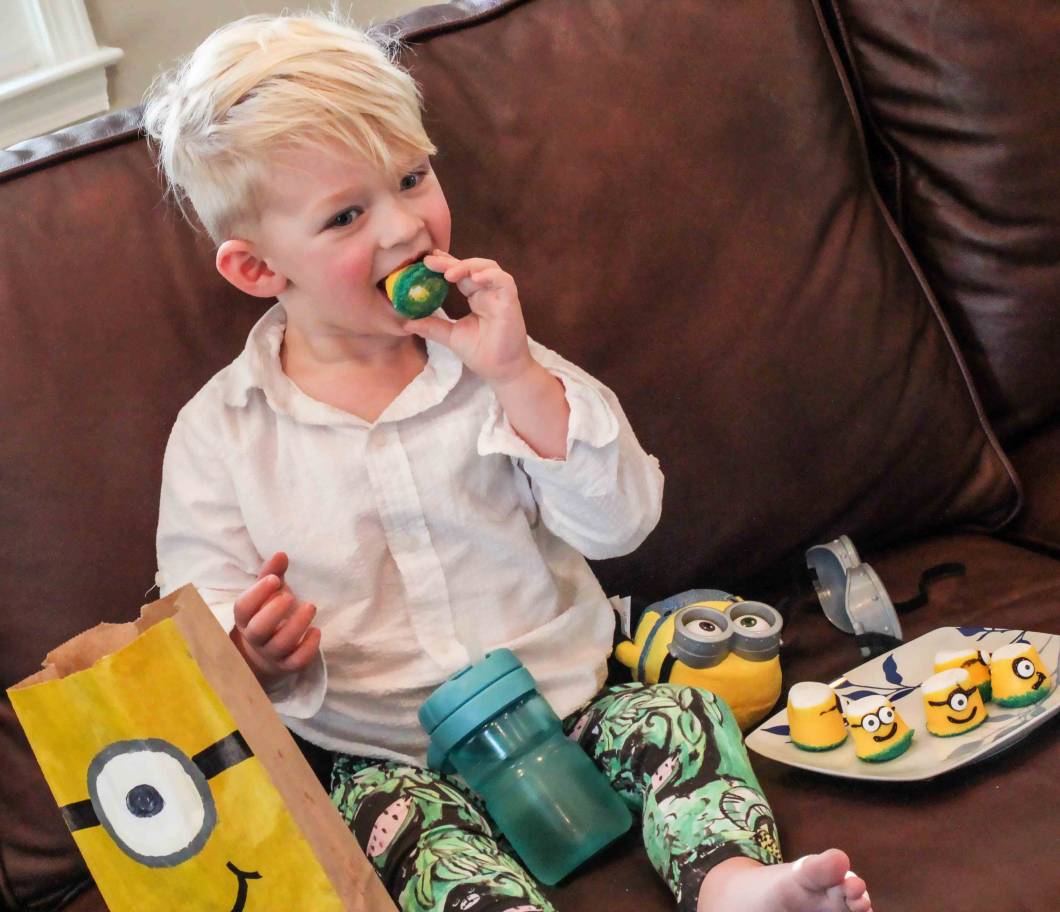 Obviously Hudson had a wonderful time! We snuggled up, ate our treats, and enjoyed the Minions Metal Pak Blu-ray/DVD. Everything used for our craft night, the Minions movie, and the fun minions gear you see above with Hudson were all purchased at Target. The Metal Pak DVD is even a Target exclusive and has 40 minutes of extras for your family to enjoy. It's a one-stop shop for a fun night in with the family!