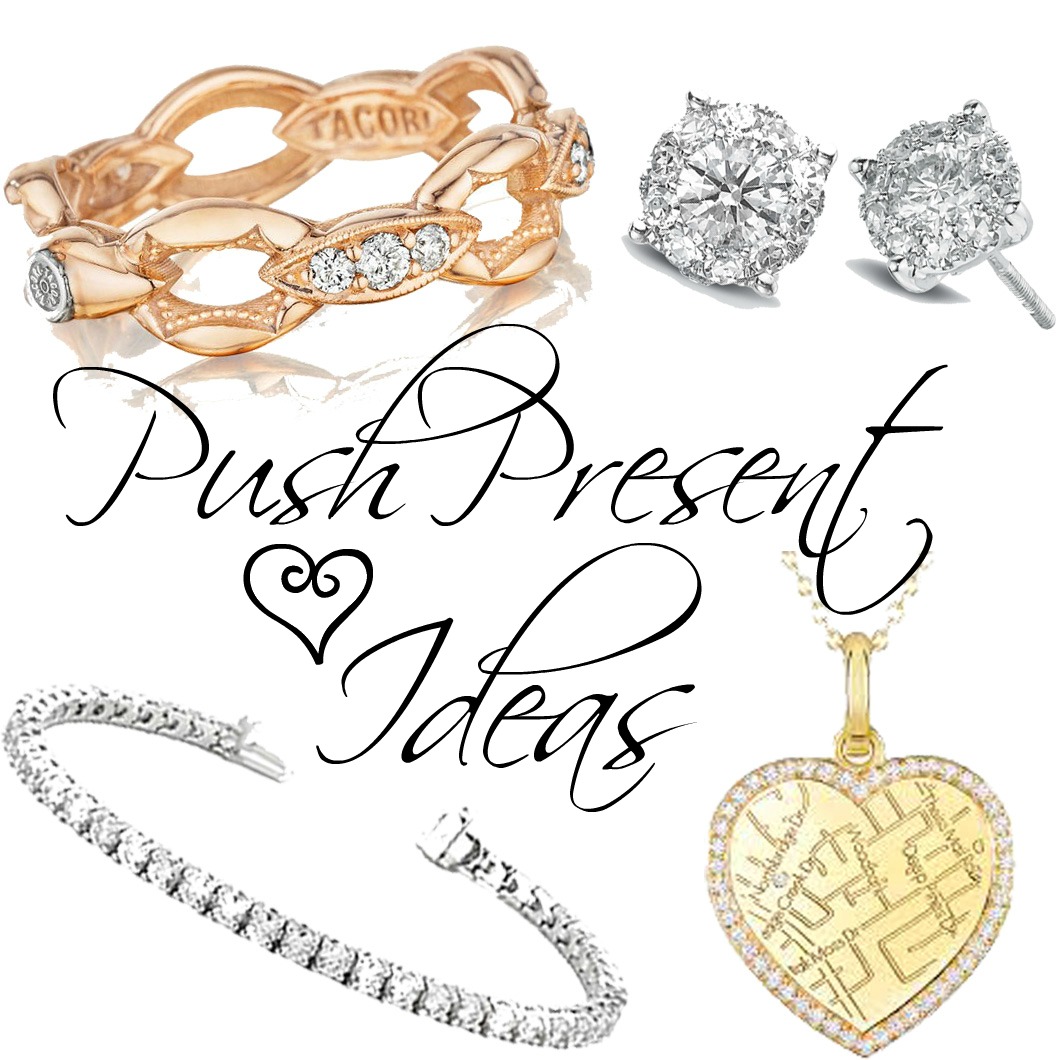 One of my favorite subjects to talk about: diamonds. With this baby's due date looming closer I got to shop for my push present and oh my goodness was it fun! I put together a little gift guide for you (significant others and pregnant mamas alike) of what I believe to be all-time classic push presents. And hey, since Valentine's Day is coming up this would work wonderfully for that as well! I paired up with my favorite fine jewelry store: Solomon Brothers to give you this list of Push Present Ideas:
Tacori 18k925 "The Ivy Lane" Stackable Rings– Obsessed is an understatement! These are a timeless piece that a woman can wear every single day. They're priced from $220 to $3,490. The rose gold, as shown above, is my favorite!
Diamond Stud Earrings – What could be more classic than diamond earrings? These were my first push present and I do wear them every single day. The best part? Solomon is running a pretty delicious deal on them: 1 Carat Total Weight for $899 or 2 Carat Total Weight for $4,995. I obviously don't have pictures to show you, you'll just need to go into the store and drool over some sparkly jewels 😉
Diamond Tennis Bracelets – Another time-honored piece that any woman would love. Again, Solomon is running a beautiful deal on these! 4 Carat Total Weight for $2,995 or 5 Carat Total Weight for $3,595
A.Jaffe Maps Collection– I have the necklace version and I wear it every single day!. Such a unique and beautiful piece. How sweet would it be to get your son or daughter's birth place? Or where you and your significant other first met? (Necklaces, Bracelets, Cuff Links) – $125 to $1,995
I have and will continue to buy my fine jewelry from Solomon Brothers only. That's where I got my engagement ring, my first push present, and several special gifts in between. They have the most beautiful diamonds for the best price, a knowledgable and friendly staff, and a selection of jewelry that is every woman's dream come true. Happy Shopping my friends!