Oh where to start with this blog post? The Third Trimester Sucks post went so well, I knew there were plenty of women who needed to read and vent about this post as well. So here it is: all the reasons postpartum sucks. Leave in the comments your own reasons! I'll add any spectacular recommendations.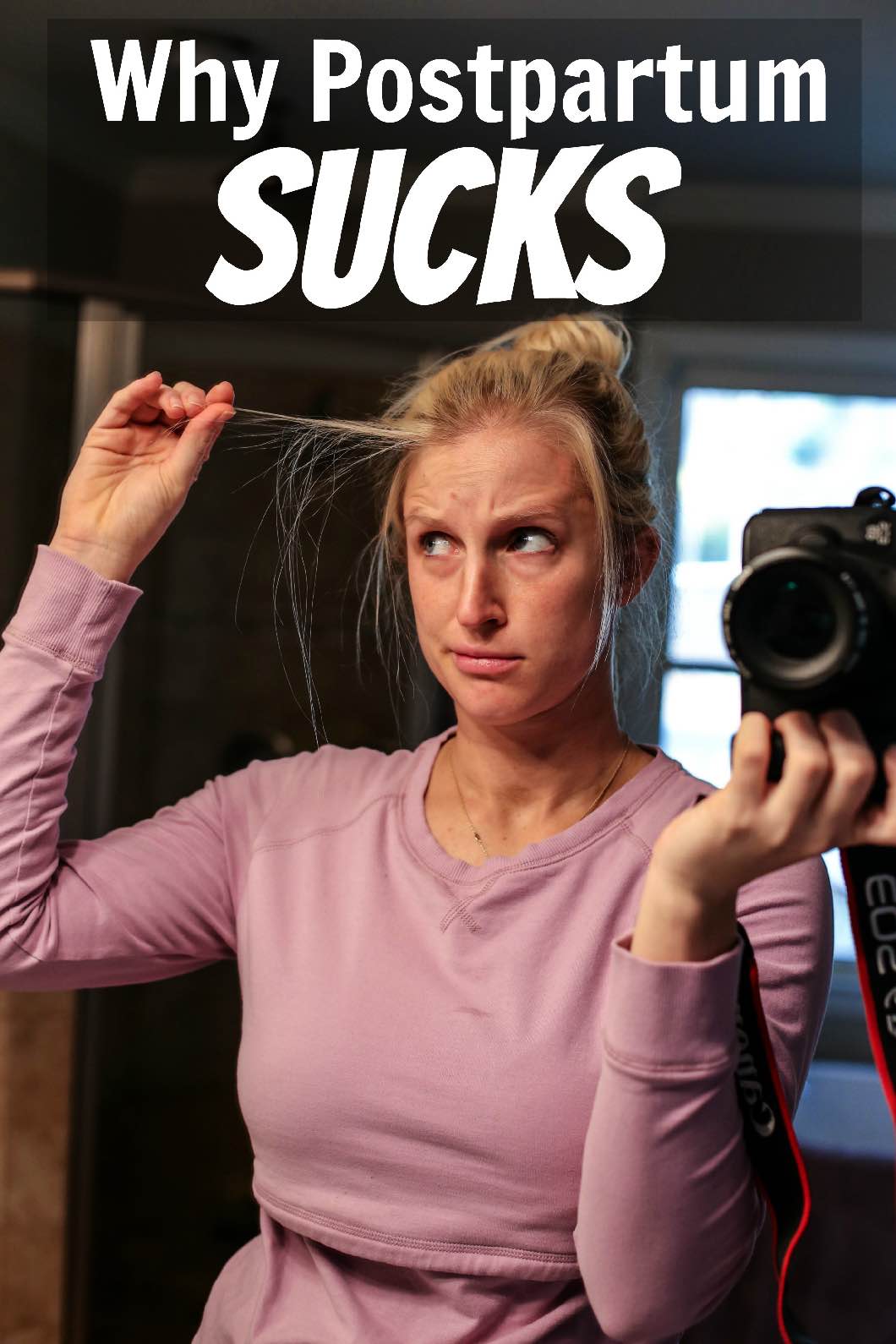 I had to start this list off with a really real photo of me postpartum. This is what I look like waking up. Seriously. Pretty much the perfect synopsis for why Postpartum blows.
Your hooha HURTS. You just pushed a baby out of it. Or not. Even if you had a C section, your lady bits are going to be sore and swollen and just plain nasty for at least two weeks.
Because you're also going to have what seems like the worst period of your life. So stock up on ALL the mesh underwear and HUGE maxi pads you can. Hospital grade only- the store bought ones can't handle this. And don't snub those granny panties- you'll be so grateful for them when the time comes.
Hemorrhoids. Oh yeah, I brought up that nasty subject. Even if you didn't get any during your pregnancy, chances are you'll get them PP. And they'll hurt and probably make you cry. Witch hazel pads will help so make sure to grab some!
Your first poop hurts just as bad as giving birth did. I'm not gonna sugar coat it. Take a motrin or 3 and cry it out lady. There's no shame.
You are beyond exhausted. Like, so tired you're pretty sure your body is just gonna shut down. Your body has been through a ton. You have a newborn thats not sleeping, and even if they are, YOU'RE not sleeping because you wake up every hour to make sure they're still breathing.
Postpartum face. It's like period face but a million times worse. Your skin is grey, you have HUGE bags under your eyes, and probably one or two pimples.
Or a million pimples. Because, hey why not have a nasty breakout on top of all of the above?
Nasty hair. Between breakage and hair loss, your head looks like you let a 2 year old cut your hair. It'll grow back and become healthy again. Eventually. Best to rock that mom bun for the next several months. Or years. Whatever works.
The crying. OMG the crying. You thought pregnancy hormones were a bitch? NAH postpartum hormones are way worse. You'll cry, and yell, and cry some more. And want to karate chop your significant other in the carotid. And then hug them. Just ride that crazy train- I promise it gets better.
Your poor boobs. Between engorgement, sore and cracked nipples, and breastfeeding you'll want to just chop those poor ladies off and end their misery.
You may still look pregnant after giving birth. With both my babies I expected to lose a good 20 lbs right after and be back in my pre-pregnancy jeans in a month. Unless you're Gisele, it's not gonna happen. Embrace that spare tire around your middle and the extra cellulite and give yourself a break. You can worry about getting back in shape when you've had more than three hours of uninterrupted sleep.
What other reasons am I missing? Why did postpartum suck for you?