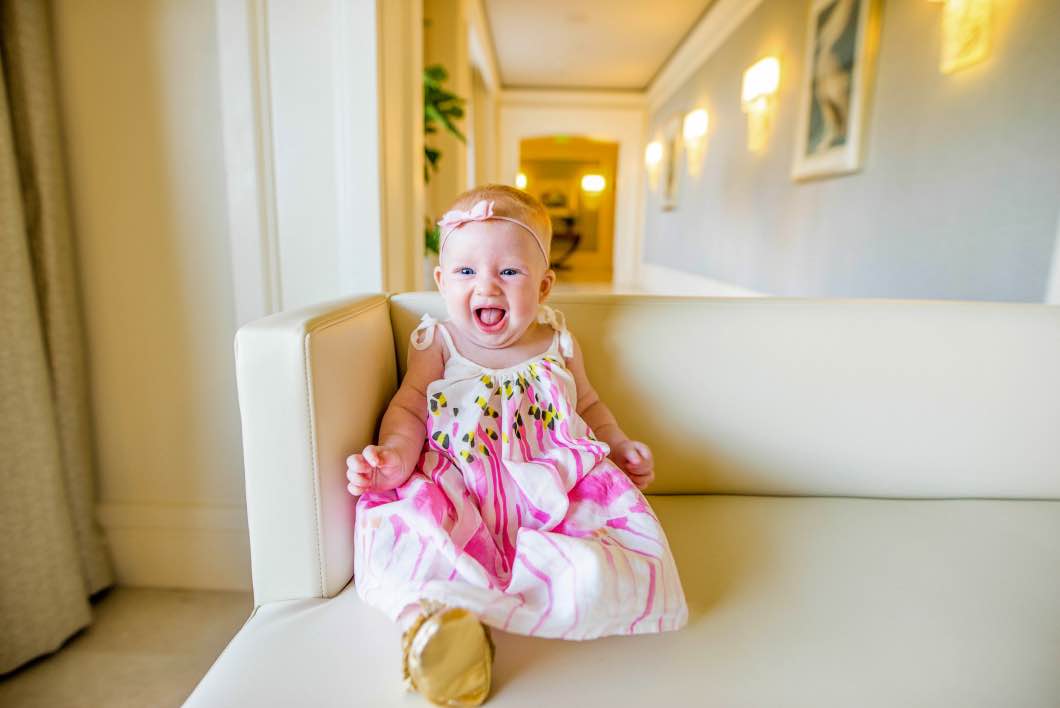 Happy 4 months to my baby girl! Ya'll, now that she's grown out of her colic she is SO FUN! I can't even begin to tell you. On vacation this past weekend, she had about 4 or 5 people cooing over her at all times. She adores attention and does whatever she can to get it! Seriously, if we're in a room and someone else is there, she will do this little "AHHH" to get their attention, then smile and coo until they're putty in her hands. I am in T-R-O-U-B-L-E with this one my friends. Because she's such an active and alert baby, I do have to keep her entertained pretty much all day.
Which is why I'm loving the Tiny Love Rocker Napper (more on that later).
She eats like a champion, but she's long and skinny just like her brother. She has gotten some pretty delicious wrist rolls though, and I just smooch on them all day. And oh my goodness her fat neck is just my favorite! We do have an issue with farting though. Yes, farting. She farts so loud it startles me awake at night! Or we'll be at dinner somewhere and she'll just let one rip, disgusting the nearby guests. I don't think anyone expects such a big sound coming from such a tiny body. I've cut cheese and dairy from my diet which is helped tremendously, but every now and again she surprises me just for fun.
Eating: Champion style! She's a true chugger.
Sleeping: She hates naps but sleeps pretty good at night. We're working on dropping that one 4 AM feed.
Milestones: Can roll both ways but prefers to do tummy time. She pretty much rolls at night so she can get as close to me as humanly possible. She's also laughing, cooing, smiling, and grabbing for everything in sight (especially my hair).
Fun: Can I say everything?? Her cooing, her laughs, her smiles, her smell….so yes, I am obsessed.
Now, let's talk about my Tiny Love Rocker Napper review. It's a 3-in-1 seat that converts into a comfy napper! As I mentioned before, Henley is strongly opposed to nap time. This has HELPED so much in getting her to take at least one good nap a day.
First, I put her in the rocking seat position. This allows her to sit up and look around while being gently soothed by the rocking motion and musical toys. The Tiny Love Rocker Napper has the ability to lock into place as well, so if she gets sick of rocking I just immobilize the seat. Once she's drifted off, I gently lower her seat into the sleeper position (last picture above). I continue to rock her for a minute or so to make sure she's asleep, then lock the napper into place. PRESTO! Mommy can finally get some work done!
I really love that the sleeper has raised sides to insure a safe sleeping environment, and the ability to lock and unlock the rocker is a big plus! If you've got an alert and active baby like Hen, I highly recommend this Tiny Love 3-in-1 Rocker Napper.
You can find Tiny Love: