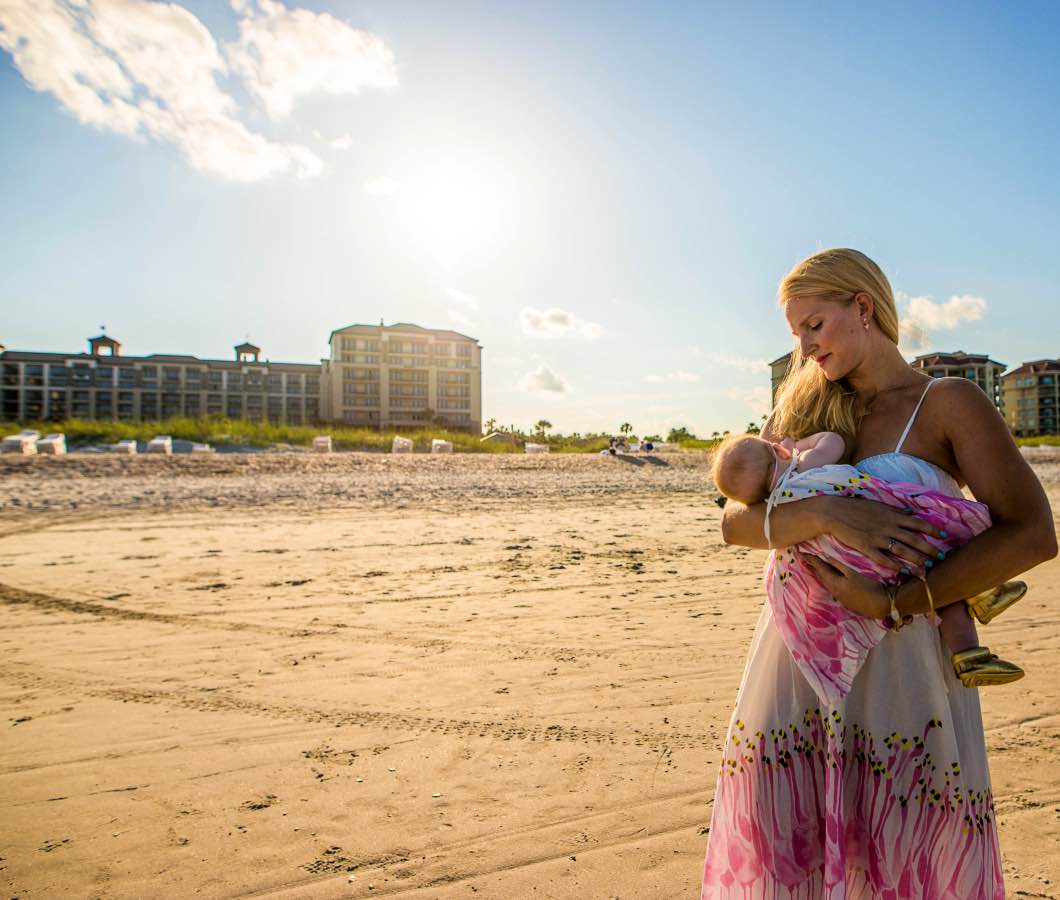 After our trip to Amelia Island, I have to say I have a new favorite vacation destination for the whole family. We had the absolute BEST time there this past weekend! From treasure hunts, to river cruises, to simply enjoying the beautiful expanse of beach… it was a trip to remember.
All about our Amelia Island Vacation- where to stay, what to eat, and what activities to enjoy!
Accommodations: The Ritz-Carlton at Amelia Island was, to sum up in one word, spectacular. As soon as we pulled up we were greeted with warmth and sweet southern hospitality. Champagne was passed out at the check-in desk and our bags were whisked up to our room. Then we meandered through the hotel, checking out all the fun amenities including 4 restaurants, a club lounge (more on that later), 1 indoor pool, 1 large outdoor pool, 2 hot tubs, and a splash pad for the little ones. Not to mention the fantastical (new word: fantastic and magical) gardens and breathtaking beach. Oh! And there is an abundance of wildlife on-site, including dolphins, bunnies, and a sweet tortoise named Freckles who can be seen throughout the flower beds. Hudson became obsessed with Freckles and we had to look for her every time we went outside.
It rained for a couple hours the first day we were there, so we took the kids to the indoor pool. During that time, I had the opportunity to talk to several other moms. The consensus? Their favorite place to vacation with the family is a Ritz-Carlton hotel. Why? I got several answers but the main points were excellent service, spectacular amenities, and most importantly: fun activities planned for the whole family.
Recommendations: Get an Ocean View suite and Club Level access if you can swing it. The Ocean View suites boast a patio and beautiful view of the ocean. Not matter what room you get, though, the beds are so comfortable you'll feel like you're floating on a cloud and the amenities are top notch.
Club level is worth every penny and then some. You get breakfast, lunch, snacks, champagne, wine, desserts, and appetizers included. Not to mention the helpful staff, live music during happy hour, and a beautiful view of the beach as you enjoy the delicious food and drinks. I took one for the team and tried pretty much everything they had to offer- more on that later.
Activities: There is SO much to do! Honestly, you don't even need to leave the resort to have a full and fun vacation. As I mentioned before, there's an indoor pool, an outdoor pool, and a splash pad. We enjoyed all three, though I do have to say the splash pad was Hudson's favorite. The beach is beautiful and equipped with tons of chairs and umbrellas for your relaxation. If you do Club Level, you get special beach access with extra comfy chairs and this adorable snack and beverage station- complete with attendants to serve whatever your little heart desires. You can also rent paddle boards, surfboards, kayaks, snorkeling gear and much more!
The Ritz really wants everyone in the family to enjoy themselves, so there are 18 holes for the golf enthusiasts, a world class spa (if you do nothing but the Heaven in a Hammock massage you'll leave a new woman), Ritz Kids Klub, several games at the pool for the young and old alike, AND daily activities planned including crafts and treasure hunts. We did both the treasure hunt and a shark tooth hunt and we all enjoyed it!
If you do leave the resort, there's even MORE to fill your vacation. We did the Amelia Island River cruise in which we got to see the wild horses at Cumberland Island, as well as several bottleneck dolphins. Plus, we got to learn about the rich history of the island! There's also Fort Clinch State Park and Amelia Island Museum of History.
Food: Y'all know I love my food. So like I said earlier, I took one for the team and ate all the food. ALL OF IT. And it was worth every dimple in my butt. The Club Level food was delicious! I highly recommend trying everything they lay out because their chefs know what they're doing. Hudson was particularly fond of the cookie bar, while my mom and I enjoyed the delicious hors d'ouvres and mimosa mixers. There's a grill by the pool that serves great Angus burgers and chicken tenders for the littles, as well as the resorts specialty- The Freckled Turtle. It's a healthy and delicious alcoholic beverage with mango juice and some spinach mixed in. How cute is that little shot nestled in the top?
Off site we visited The Crab Trap and Timoti's and both were so good! At the Crab Trap we tried their crab legs, surf and turf, and a delicious jalapeño margarita. All were fresh and fabulous. Timothy's Seafood Shack specializes in wild caught seafood, so we sampled the oysters, the Mahi, and the Shrimp Po' Boy and whoa was it delectable.
Recommendations: If you go off the resort, you MUST go to The Crab Trap and Timoti's. On-site, make sure to hit the coffee bar and every single offering in the club lounge. Eat, drink and enjoy my friends, you're on vacation!!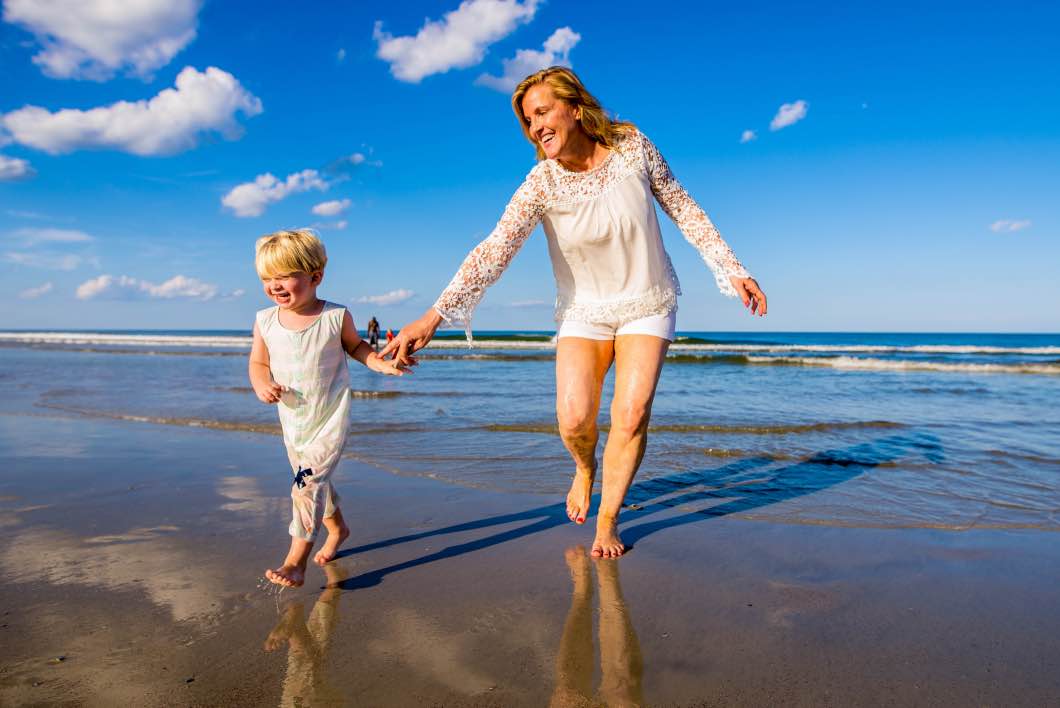 Obviously, we had a remarkable time at Amelia Island. I hope this post helps you enjoy it as much as we did!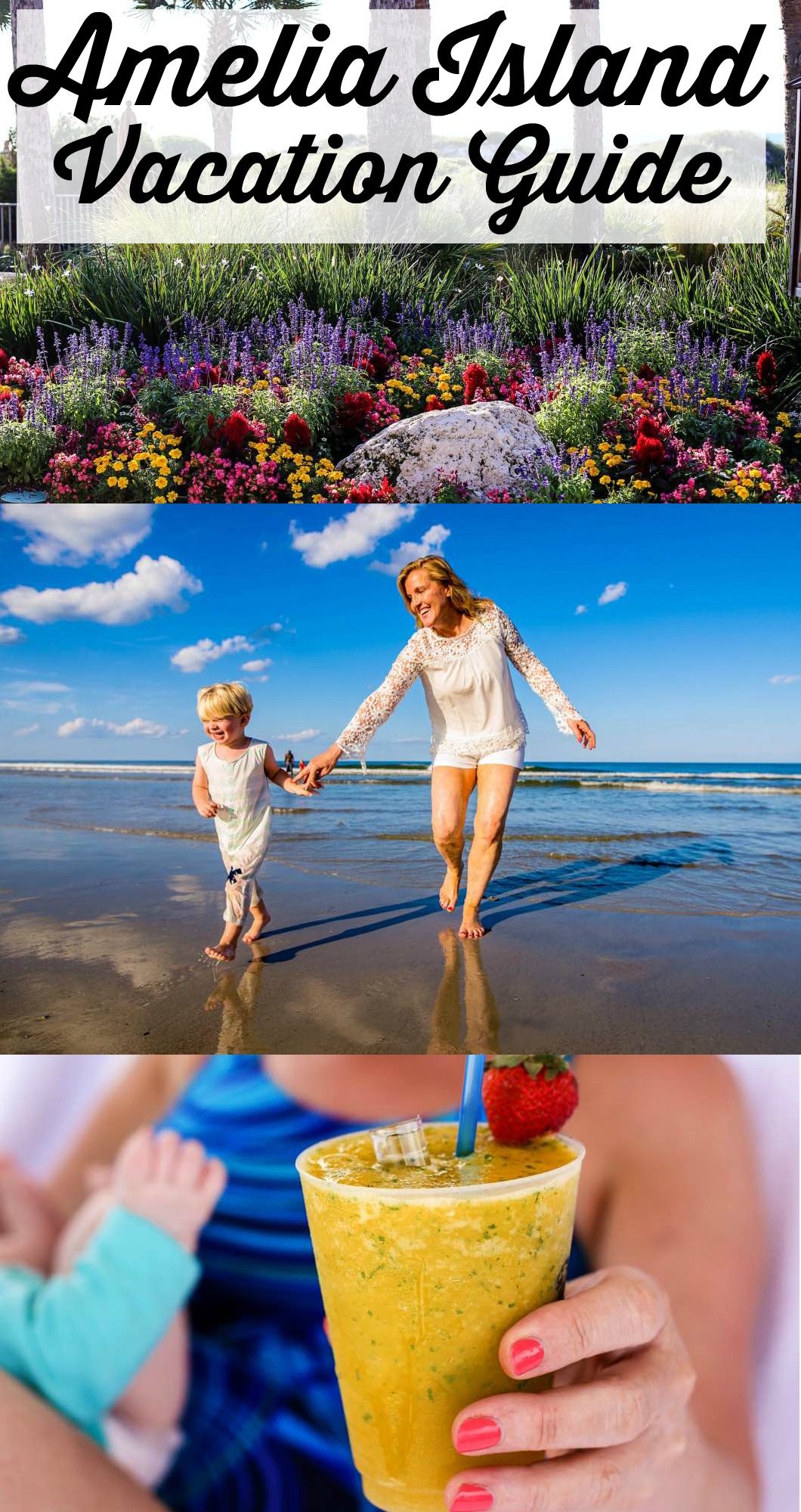 You can find Ritz-Carlton: