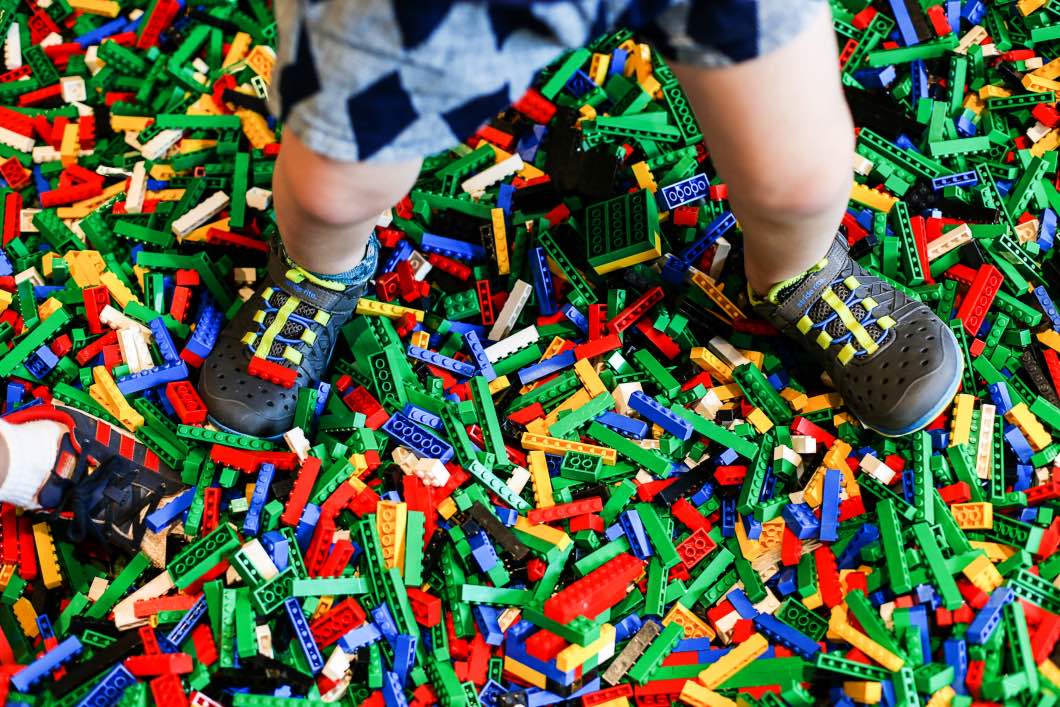 Hudson has grown into that stage where he is OBSESSED with Legos. So for his 3rd birthday, we decided to head to LEGOLAND Florida. Holy Toledo Batman, we had a blast!
Here is everything you need to know about Visiting LEGOLAND Florida– where to stay, what to eat, and how to have the best time!
Accommodations: There is only one place you HAVE to stay if you're going to LEGOLAND Florida– the hotel attached to the resort. To miss the hotel would be to miss out on half the fun! First, let's discuss the actual rooms. You get to choose between a themed Premium Room or a VIP Suite. The Premium Room sleeps up to 5 (2 adults and 3 kids) and the VIP Suite sleeps up to 9. We actually had 6 in our Premium Room- 2 adults, 2 babies, and 2 kids, and we had plenty of room. There is a king-sized bed, bunk beds, and a trundle bed. The kids sleeping area is separate from the adults, which is key as they tend to pass out early from all the enjoyment of the day. Which means the adults can stay up later and enjoy a movie or just relax in peace and quiet. The rooms are also so fabulously themed! We stayed in a Kingdom room as seen above, and there was plenty to keep the kiddos occupied. Each room comes with LEGOs for the kids to play with, a treasure hunt upon arrival, 2 TVs (one for the adults and one for the kids) and LEGO creations EVERYWHERE. Our little ones spent a good hour just finding all the statues in our room.
Recommendations: Do not miss the pool and splash pad. As you can see above, the boys loved running amok in the pool (equipped with large floating LEGOs) and the splash pad. It was a great way to cool off after a long day at the park. I also have to point out that there is an indoor playground equipped with 2 large pools of Legos, right next to the hotel bar. Pretty much my favorite addition to any hotel I've stayed at. Ever. We got to unwind while the kids ran out the last of their energy- it was glorious! They also have daily shows for the kids in the hotel lobby, LEGO characters that interact with them all day long, and a Pajama Party at 8 PM each night! It was fun, fun, fun from morning til night.
Also a HUGE plus- you can WALK to the park! It's right next door!
Activities: All you need is the park! LEGOLAND Florida is chock full of enjoyment for the whole family. Both of our boys are almost 3, so Duplo Valley held the most fun for them. There was a tractor and a train ride, lots of large LEGO play areas, as well as an awesome splash pad for the kids to enjoy! If you brought babies, there is a special nursing station that even comes with a bottle warmer! Another favorite was the Land of Adventure, where they could climb through an air conditioned playground and go on Safari. What surprised me was how much they enjoyed MiniLand- a whole portion of the park dedicated to LEGO cities. There was a race track, downtown New York City, and Kennedy Space Center to name a few. They loved running to each scene and pointing at all the moving parts. Definitely a must-see for adults and kids. We, sadly, didn't make it to the Water Park. But, I have heard that kids of all ages enjoy it, especially the Joker Soaker play area.
Recommendations: All of the above, but most of all would be to visit LEGO Technic! The AQUAZONE Racers had the boys laughing hysterically, and both loved the Technicycle ride. There was also a great Tot Spot, and it was right next to the Pirates Cove Water Show. The water show is another must for your itinerary. Water acrobatics, surprise guests, and amazing boats entranced the whole family for an hour. We grabbed lunch, sat in the shaded auditorium, and took a nice breather while enjoying the show.
I hope you have as much fun at LEGOLAND as we did!