This football brownies post is sponsored by fairlife Ultra-Filtered Milk. I only work with brands I truly love, so thank you for helping me to support them.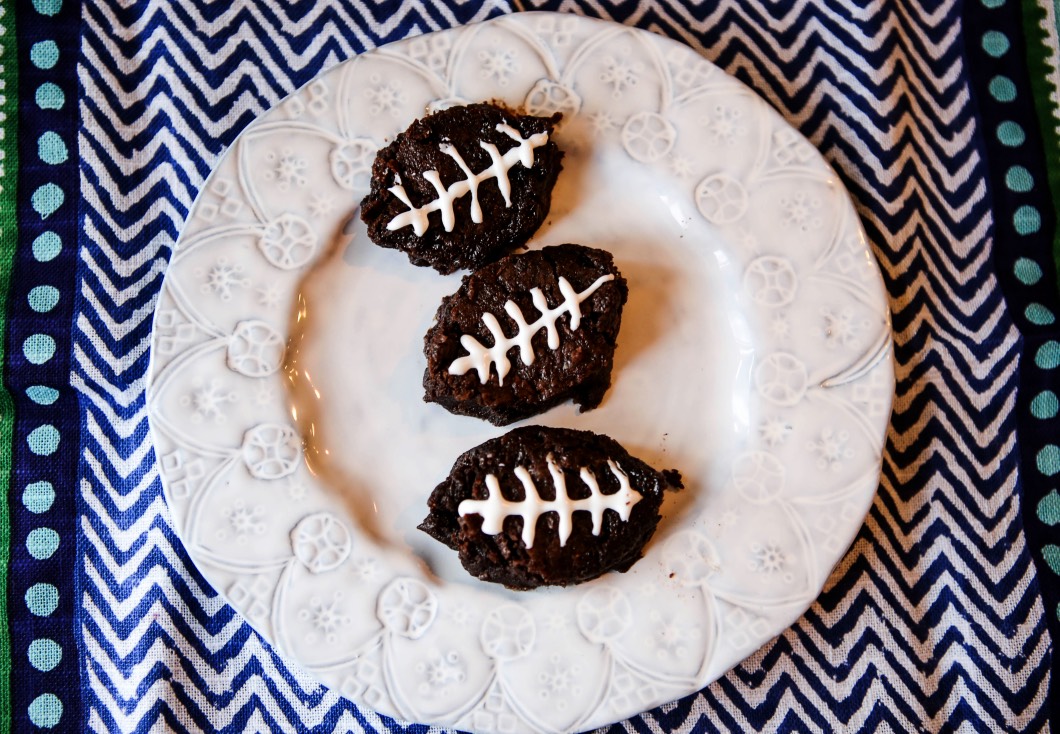 Are you ready for some football? As you know, the Hughes' love to throw parties and the Super Bowl is a favorite pastime of ours. Mama Mac makes these delectable football brownies for our parties, and she's become quite famous for them. She's finally sharing her recipe for these delectable treats here!
Football Brownies with fairlife Ultra-Filtered Milk
2017-01-19 16:13:23
Football brownies for your Super Bowl party!
Ingredients
3/4 cup of Flour
1/4 teaspoon Salt
1/4 teaspoon Baking Soda
1/3 cups Butter - No Substitutions
2 Tablespoons fairlife Ultra-Filtered Chocolate Milk
3/4 cups Coconut Sugars
2 Cups Semisweet Chocolate Chips
2 Whole Eggs
1 teaspoon Vanilla
1 cup Chopped, Toasted Walnuts (optional) Preparation
Combine flour, salt and baking soda. Set aside.
Instructions
Preheat oven at 325 degrees. Use butter to grease a 9x9 pan.
Melt the butter, fairlife Ultra-Filtered Chocolate Milk and sugar over medium low heat, stirring continuously. When it comes to a boil, remove from heat and immediately stir in 1 cup of the semisweet chocolate chips.
Transfer chocolate mixture to a large bowl and stir in the eggs, one at a time.
Stir in vanilla and flour mixture.
Fold in remaining cup of chocolate chips.
Pour batter into a greased 9x9 pan.
Bake for 30-35 minutes at 325 degrees.
Remove from the oven and let cool. Then place in the fridge for 1 hour.
Remove the brownies from the fridge. Use a knife to cut out football shapes.
Frost the top of the brownie with mom's famous chocolate frosting (here).
Then use white frosting to draw on the laces.
Enjoy with a cold glass of fairlife Ultra-filtered milk
Happily Hughes | Atlanta Fashion & Lifestyle Content Creator https://happilyhughes.com/
When I say mom's brownies are famous, I'm not exaggerating. Friends ask me ALL the time if mom can make them for a party or just because. Want to know her secret ingredient? She uses chocolate milk. Most recipes don't call for milk, but mom added just a little bit in, and it makes them that much more delicious. We, of course, only use fairlife ultra-filtered milk in our home. If you're wondering why, please refer to this post. But I'll give you a brief synopsis: fairlife is ultra-filtered to bring the best tasting milk to the table. That mixed with the owners' love for their cows and their high-quality standards make fairlife ultra-filtered milk the only milk we use.