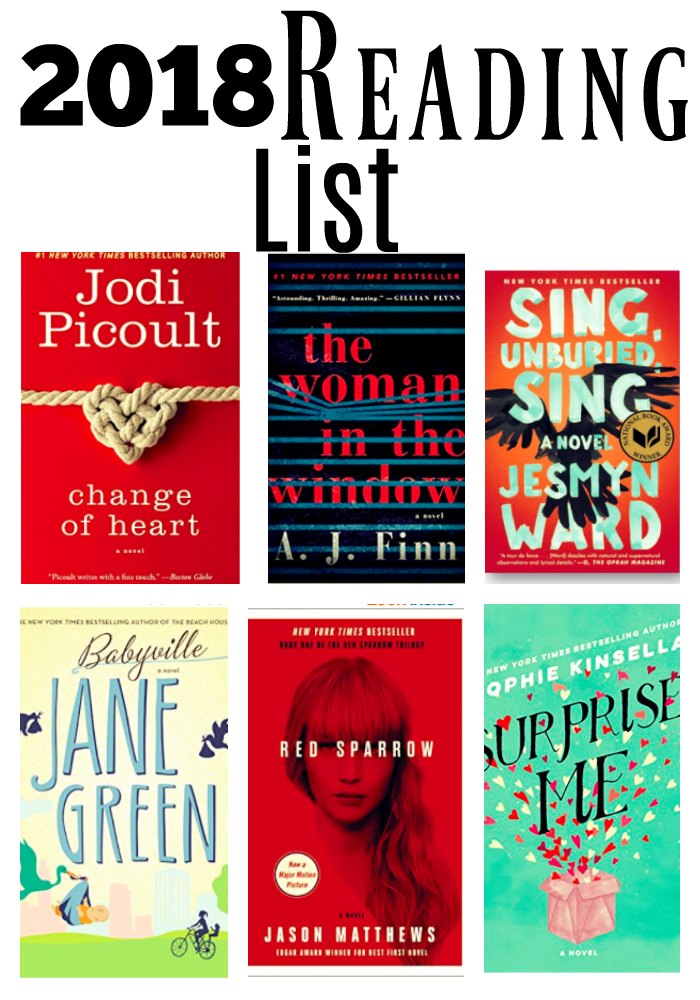 Ya'll I've read so many great books lately that I just had to share my 2018 reading list! I love that ya'll recommend books to me on stories etc. so please keep doing so. Here is a roundup of the best books I've read. If I've missed any new and fantastic reads just let me know below!
2018 Reading List
Sing, Unburied, Sing– This family story follows a mixed family through past and present Mississippi in the most lyrical and haunting way. I could not put it down!
Red Sparrow– This novel has been turned into a movie starring Jennifer Lawrence- my girl crush. It's about Russian spies and CIA masterminds after the cold war. If you're into top secret spy stuff, you will love this. It's also the first in a trilogy set.
Babyville– Another Jane Green novel that will make you laugh and cry! I love her dry British humor.
Change of Heart– Jodi Picoult wins at the fiction game again with this heart-wrenching and eye opening tale. As a mama I really connected with the main character and it made it that much more engrossing.
The Wife Between Us– If you loved Gone Girl, you will LOVE this book. I read the whole thing in one night!
The Woman in the Window– Also along the lines of Gone Girl. This book twists and turns and keeps you on your toes the whole read through.
The Alice Network– One of my favorites of all time. This book is about women spies during World War 2, a pregnant young woman after the war, and a handsome convict. They all tie together in a beautiful and spell-binding story.
Surprise Me– Sophie Kinsella at her very best. This book is both hilarious and heartbreaking.
What about you? What's on your 2018 Reading List? Let me know in the comments below!