Frequently Asked Fitness Questions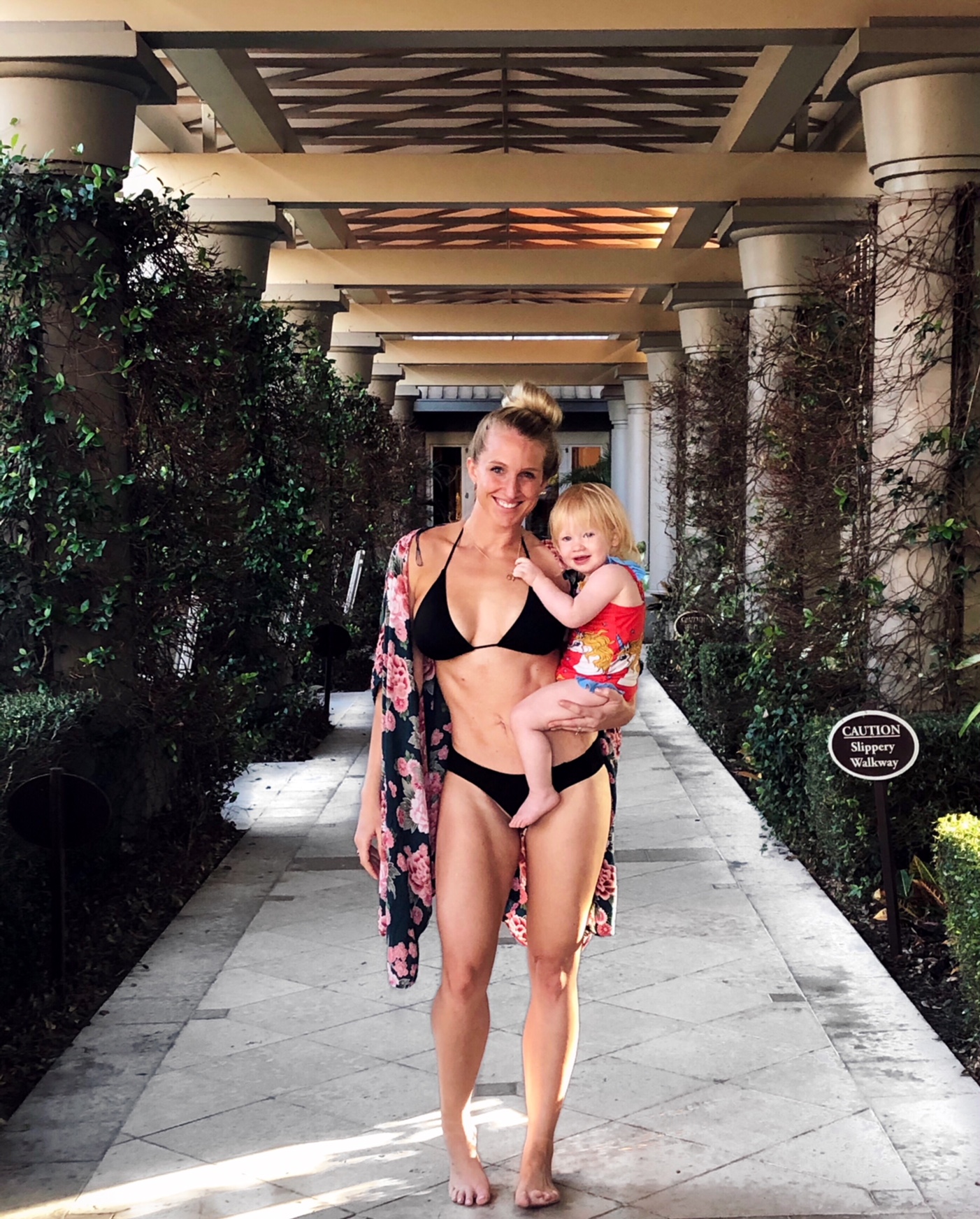 Frequently Asked Fitness Questions
*Make sure to check out Veronika and Heather's posts for this week as well!*
How do you find time to workout? I MAKE time. 1 hour of every day I have blocked off for the gym. If something happens, as it often does with children, I make up for it the next day.
Where do you get your workouts? I'm an ACE certified personal trainer so I can make my own workouts with ease. That being said, I highly recommend watching workout vids on youtube and Instagram. PLEASE make sure the person doing the video is a trained professional or is being trained by a professional. The amount of poor form I see in videos nowadays makes me cringe! You can also do BBG. I haven't done it but Veronika has and she loves it! Check out her post.
Speaking of… What's your number one rule for working out? FORM! I am such a huge proponent of proper form over intensity, weights, etc. PLEASE see a professional trainer or watch ALL the youtube videos on proper form. You will see a bigger difference doing your workouts correctly.
How do I lose my mom gut? Whew this is a loaded question. Ok honest Abe here, its pretty impossible to do. You may have stretch marks or extra skin that just won't go away. I know I do. Those are pretty permanent. If you have Diastasis Recti, <— check out this post. All that being said, a diet high in protein and veggies and low in fat is always helpful. I also do abs 5 days a week!
How do I get rid of cellulite? Sadly, cellulite is hereditary and seems to rear its ugly head postpartum. To cut down on cellulite make sure to eat the diet highlighted above, weightlift at least 3 days a week, foam roll after every intense workout, and get a massage once every two months.
Should I add yoga or pilates to my routine? YES! Either or both are GREAT for your body. Yoga and Pilates work on lengthening the muscles and also give your body a much needed stretch.
How do I prevent my muscles from getting bulky if I'm weightlifting? One of my favorite questions ever. High reps and low weights lengthen the muscles!
What do you eat in a day? Whew ok here's my normal eating schedule:

Breakfast- Overnight protein oats and a green juice, scrambled egg whites and ezekiel toast with peanut butter, granola with almond milk and a protein shake, or I grab two of these protein muffins and run out the door.
Snack- Celery and peanut butter, a Premier Protein or Luna bar, unsalted almonds or cashews, Complete Cookie, etc…
Lunch- Soup and sandwich (I love wild rice and chicken soup or chicken tortilla). It's best if the sandwich is on Ezekiel bread. I'll also do a salad and grilled chicken, or a small cup of fruit, turkey and a slice of cheese.
Snack- any of the above listed or, as you see on my stories, a smoothie with the kids.
Dinner- Whatever I'm making for the family! If you need some recs, I am a big fan of HelloFresh.
POINTERS! Breakfast and Lunch need to be the biggest meals of the day. I make sure mine are at least 400 calories each. Dinner needs to be the smallest.

What is your workout schedule? I do weightlifting on my own two days a week and crossfit three days a week. I totally understand that you may be wary of crossfit gyms, as you should be. I've found a great one in Crossfit No Quarter and can highly recommend! If you don't want to do CF, I would do this schedule: weight lift 4 days a week and do HIIT 2 days a week. You can combine a HIIT and weightlifting day so you have two off days.
Do you guys have any other fitness questions you're dying to ask? Let me know in the comments below!
Here is WEEK 2 of the plank challenge!
Day 1 – 3 sets of 15 push-ups (knees as modification), tricep dips & side shoulder raises (25 reps if no weights used)
Day 2– 3 sets of 10 burpees, 40 seconds mountain climbers, 40 seconds star jumps
Day 3– 3 sets of 15 bicep curls + bent over reverse fly (palms face in, go back and around) +3 Point Plank with 15 seconds on each one (Left, center, right) and Wacky Jacks
Day 4 – Rest
Day 5– 3 sets of 15 push ups + 3 sets of 15 tricep dips + 3 sets of 30 seconds see-saw planks shifting your weight forward and back
Day 6–3 sets of 10 burpees, 3 sets of 30 second straight arm planks with feet jumping out and in, 3 sets of 30 seconds jumping jacks
Day 7– 3 sets of 15 wide shoulder presses + Elbows at 90 degrees, holding at the bottom for scapular squeezes + Push-ups + Tricep Dips